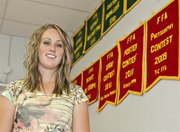 PERRYDALE -- Ashley Richards, Perrydale's new agriculture teacher and FFA advisor, found the perfect place to begin her teaching career.
It took just a few visits to the school and knowledge of its high-achieving agriculture and FFA programs to convince Richards that Perrydale was where she wanted to teach.
"I thought it was a fun small school," Richards said. "It seemed like everybody knew each other. Coming from a small school myself, it just felt like home."
Richards, who earned her bachelor's degree in animal science and master's degree in agricultural education from Oregon State University, said teaching seemed a natural fit.
"I grew up on my family's farm," she said. "Ag has always been a huge part of my life. I developed that passion from a young age. And I like the idea of helping students and making a difference."
Richards is stepping into the position Perrydale's longtime teacher and FFA advisor Kirk Hutchinson retired from last winter.
She intends to honor the program's past strength in community service and continue to develop successes in other areas as well.
Perrydale will continue its well-known and award-winning activities such as Food For All, its winter and spring Senior Teas, February's Ag Week, and a spring blood drive.
Taking on a project as big as Food For All, which broke collection records year after year, is a little intimidating, but Richards is taking it in stride.
"It's definitely a big project for my first year, but the kids here are really great," she said, noting surrounding school districts have offered their assistance as well. "It's a huge project, but I have a big support team."
Along with community service, Richards is working to develop a strong career development program in FFA. Perrydale FFA members can participate in a number of subjects, from public speaking to crops to photography. Banners from past career development honors hang in her classroom. She wants to add to the collection.
"I would like to build that part of the program and have more students competing in the career development events at the state level at least," she said.
Having earned honors in public speaking during her years in FFA, Richards understands how developing those skills can benefit students.
"The goal is to have students get real life and/or hands-on experience," she said. "They are just really valuable skills for students to learn for their school years and beyond."
Richards has introduced a new science-based class called Curriculum for Agricultural Science Education (CASE). The course takes students through science experiments involving aspects of farming, such as soil, water and fuel efficiency testing, among other labs. She said CASE gives students the opportunity to design their own experiments.
"I just think it's a new way of thinking for the students," she said. "It's very inquiry-based. It will just be fun doing experiments with different kinds of reactions and all of those labs are still in the context of ag. It's just a new, hands-on way of getting students the information they would normally get in other ways in a non-CASE ag class."
Richards, also an avid barrel racer who competes in local rodeos on the weekends, is diving into a busy first year.
This school year will include a trip to the FFA national convention, the Oregon FFA state convention and several community projects. She is hoping for a strong showing at the FFA state convention and a successful beginning to her time at Perrydale.
"I have some really great kids," she said. "So far, things are going well."