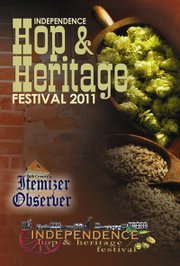 INDEPENDENCE -- Hops were big business in Oregon during the early to mid-20th century. And Independence was considered by many to be the center of it all.
Alas, hops are nowhere as common today in our state as they once were. And the city's mantle of "Hop Capitol of the World" is long gone.
Thank goodness the party that punctuated the end of the local harvest seasons here lives on.
The 11th annual Independence Hop & Heritage Festival will usher in the fall during three days of activities scheduled Friday through Sunday, Sept. 23-25.
"The aim of the festival is to have a good time," said Marilyn Morton, Hop Fest coordinator. "We want to have a good time celebrating who we are and encouraging people from the outside to celebrate with us."
The majority of the fun takes place in the amphitheater at Riverview Park, which for the last several years has been one of the key event venues in Polk County.
It starts with a hometown barbecue -- coordinated by the Central Lions Club and Andy's Cafe -- and Rogue Ales beer garden on Friday evening. The always-popular Ghost Walk will begin not long after.
Display and food booths open on Main Street on Saturday, while musical acts of all genres are scheduled to perform on the amphitheater's main stage. There will also be activities ranging from puppeteering to a pie-eating contest in the town square.
Newport-based Rogue Ales, which opened a 40-acre hop farm in the Buena Vista area three years ago, is one of this year's title sponsors, contributing $5,000 to the event.
Other key contributors are Bi-Mart of Monmouth and the city of Independence.
The beer garden will televise both the Oregon State University and University of Oregon football games on Saturday.
Returning this year is the "cookie cookoff," with competitors putting their best treat forward. And debuting is the first Hop & Heritage 5K, a Saturday morning race that begins at Central High School.
The hop festival will culminate Saturday with a fireworks show across the Willamette River from the park at 8 p.m.
A pancake feed at the Independence State Airpark and tours of the Rogue Hop Farm on Sunday will conclude the event.
"I'm surprised the (Hop Fest) has continued as long as it has," Morton said, noting the first one happened just two weeks after the Sept. 11 attacks in 2001. "But when we got to 2007 and 2008, when I would be downtown trying to drum up interest in it, people were always referring to it as `our Hop Fest.'
"The community has ownership of it."