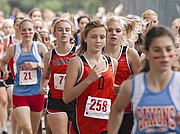 DALLAS -- There was plenty of good news for Dallas' cross country team Sept. 17 in the South Salem Invitational at Bush's Pasture Park in Salem.
Alex Bird finished 21st on the 5,000-meter course for the Dallas boys with a personal-best time of 16 minutes, 43.85 seconds.
The boys also welcomed the return of Clay Stuhr, who had missed the first two meets of the season with knee tendinitis.
Mary Kate McGuire, also playing soccer this fall, led the Dallas girls by taking fifth in 19:21.
"We did so well," Dallas coach Monique Lankheet said. "I think all but two people ran their personal bests. Alex dropped under 17 (minutes), and that's the fastest he's run in his whole life. We were pretty stoked about that.
"Mary Kate ran very fast. Right now, she's the fastest girl in the league. I think the next-fastest girl from our league was about 20 seconds slower. The girls team looked really well. We definitely made some progress."
But perhaps the most pleasing aspect of the meet was Stuhr's return. He ran neck-and-neck with Bird all last season in both cross country and track. Stuhr ran a 17:30.24 in the South Salem meet and finished 49th.
"He hasn't run since July," Lankheet said. "We've been working with him in the pool and getting him treatment. He's feeling a lot better. We're hoping, within three weeks, he'll be running together with Alex again."
Ethan Noll ran a 17:11.38 for the Dallas boys and finished 39th. Michael Osborn completed the top five, taking 104th in 18:50.71.
Other top finishers for the Dallas girls were Bethany Steele (32nd place, 21:18.3), Carleen Fall (42nd, 21:37.8), Anne Barrientos (63rd, 22:23.3) and Raelee Mullins (66th, 22:26.2).
"It was a nice beginning," Lankheet said. "It was our first real test. The kids out-performed my expectations by far."
Dallas next will head to the coast Saturday, Sept. 24 for the Seaside Three-Course Challenge.