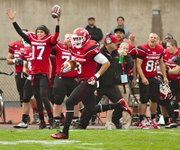 MONMOUTH -- Western Oregon's football team beat Central Washington 14-7 Sept. 17 at McArthur Field, snapping a string of 14 straight losses to the Wildcats.
It was Western's first victory against Central Washington since 2001. The defending Great Northwest Athletic Conference champion Wildcats now are 0-3 for the first time since 1980.
"Our team is still building and honestly we don't know how good we are yet," Western coach Arne Ferguson said. "Central is a very good team that played two very quality teams coming into this game. To be at home and get a win against this type of opponent that has been that successful over the last 10 years is a great accomplishment. I am very proud of our guys."
Western (2-1 overall, 2-0 GNAC) relied largely on its defense and running game to get the win in its first home game of the season.
The Wolves' Cody VonAppen ran for 94 yards, helping Western outrush the Wildcats 165-44.
Defensively, Western forced five turnovers. Bryce Peila intercepted two passes for the Wolves. Scotland Foss intercepted one pass and recovered a fumble. Peila and Foss later were named GNAC co-defensive players of the week.
Foss' fumble recovery, which followed a hit by Gavin Drake, gave Western the ball at the Central 24-yard line early in the second quarter.
VonAppen ran for a 17-yard gain, and Evan Mozzochi connected with Tyrell Williams for a 7-yard touchdown. Kelly Morgan's extra-point kick gave WOU a 7-0 lead with 8:22 on the clock.
Later in the quarter, Peila picked off a pass and returned it 50 yards to the Central 5. Two plays later, Kenneth Haynes scored from 2 yards out, pushing the margin to 14-0.
Central engineered a 13-play, 96-yard drive in the third quarter and pulled within 14-7 on a four-yard pass from Ryan Robertson to Leon LaDeaux.
Robertson finished with a career-high 322 passing yards but also was intercepted three times.
Two of those came in the game's final two minutes as the Wolves managed to hang on to the lead.
A 68-yard toss from Robertson to Anthony Spain gave the Wildcats a first down at the Wolves' 24 with 1:49 left in the contest. Peila's second interception ended that threat.
Central got the ball right back but a diving interception by Foss sealed the outcome.
"Bryce Peila's two picks were crucial and Foss' pick was huge at the end," said Ferguson. "Our defensive line also did a very good job early. They made them one dimensional and our defensive backs then did a very nice job controlling the game."
Western is back on the road this week and will face Dixie State Saturday, Sept. 24, in St. George, Utah.