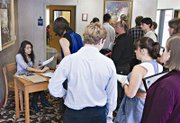 Art exhibits open
on WOU campus
The life and work of Alfred P. Maurice will be celebrated in three exhibits on the Western Oregon University campus this fall.
"Alfred P. Maurice: Selected Prints and Paintings" is the title of an exhibit that is open today (Wednesday, Sept. 28) through Oct. 28 in the Cannon Gallery of Art in Campbell Hall. An opening reception for the exhibit is today from 4:30 to 6:30 p.m.
"Art as a Verb" is being featured now through Dec. 9 in the second and third floor galleries of Hamersly Library. An opening reception for those exhibits also takes place today from 4 to 5:30 p.m.
"Alfred P. Maurice: Selected Drawings" is being shown in the Werner University Center Gallery today through Oct. 28.
For more information: 503-838-8419; www.wou.edu/library/exhibits/.
Fundraising event
for Bambinos set
Bambinos will hold its fourth annual silent auction and gourmet dessert fundraiser Friday, Sept. 30, to benefit the nonprofit outreach ministry that serves low-income families with children in the Dallas area.
The event is scheduled at 7 p.m. at Eola Hills Wine Cellars, 501 S. Pacific Highway (99W) in Rickreall.
Admission is free. Auction items range from golf and wine to skin and hair care and food.
For more information: Beth, 503-508-6043; www.BambinosOregon.org.
Saturday breakfast
slated in Monmouth
Monmouth Senior Center will host its monthly all-you-can-eat community breakfast fundraiser on Saturday, Oct. 1, from 8:30 to 10:30 a.m.
Cost is $5 per person, $3 for children under 12. The menu is scheduled to include pancakes, scrambled eggs, sausage, biscuits and gravy, and choice of orange juice, coffee or tea.
Proceeds benefit the Monmouth Senior Center building expansion fund. The center is located at 180 S. Warren St.
For more information: 503-838-5678.
Grange schedules
weekend market
Rickreall Grange is hosting a weekend flea market Saturday and Sunday, Oct. 1-2, from 9 a.m. to 4 p.m. both days at the grange, 280 Main St. (99W) in Rickreall.
A variety of vendors offering an assortment of items will be on hand and a bake sale will take place.
Breakfast and lunch will be available for purchase.
A few vendor tables remain available for rent.
For more information: Blanche Pryor, 503-623-8289.
Youths can become
co-pilots for a day
Kids interested in experiencing the joy of flight should head over to the Independence State Airport early on Saturday, Oct. 1.
Children ages 8-17 will get a chance to be co-pilots through the Experimental Aircraft Association's biannual Young Eagles program.
The event starts at 8:30 a.m. at the EAA Chapter 292 hangar, 4803 Airport Road. There is no charge.
Kids will go through a short briefing on flight basics and what they'll experience up in the air before a 20-minute plane ride with pilots from Independence EAA chapter 292.
Participants must be accompanied by a parent or guardian and sign a permission form, which are available at the hangar.
For more information: Kathy Cheval, 503-838-9870.
Animals to receive
blessing at church
St. Thomas Episcopal Church in Dallas will celebrate St. Francis Day with its annual "blessing of the animals" Sunday, Oct. 2.
The service starts at 10 a.m. and all animals will be blessed at the church located at 1486 SW Levens St. Refreshments will be served.
All animals are welcome, but for safety purposes they must be on a leash, in a carrier, in a cage, in a fish bowl, haltered and led, etc.
An offering of animal foods, toys, clean new or used towels and blanket, and other items will be collected for the Dallas Area Animal Services.
For more information: Robin, 503-787-3380.
Sunday service
will bless animals
St. Hilda's Episcopal Church in Monmouth will conduct its annual Blessing of the Animals service Sunday, Oct. 2, at 10 a.m. at the church, 245 W. Main St.
The service will take place outdoors on the church lawn. All animals are welcome. In years past the Vicar has blessed dogs, cats, guinea pigs, rabbits, horses, birds, stuffed animals and more.
The Rev. Anne Moore will bless all animals present and pray for those pets that have to remain at home. Donations of pet food and treats for the humane society are welcome.
For more information: 503-838-6087.
Chefs' Nite Out
will benefit MPFS
Tickets remain available for the 13th annual Chefs' Nite Out event to benefit Marion-Polk Food Share.
Tickets for the Sunday, Oct. 2, event, which runs from 4 to 7 p.m. at Willamette Valley Vineyards in Turner, are $75 per person.
The event will feature 43 restaurants, caterers, wineries and other beverage purveyors offering a variety of tastings.
All proceeds from the event benefit Marion-Polk Food Share.
For tickets or more information: Linda Kromer, 503-581-3855, ext. 315; e-mail to lkromer@marionpolkfoodshare.org; online at www.marionpolkfoodshare.org.
Church will host
concert on Oct. 2
Cornerstone will perform a concert Sunday, Oct. 2, at 6 p.m. at Heart to Heart Church, 191 N. Monmouth Ave., Monmouth.
The group performs a variety of Christian music styles, from Southern gospel to inspirational and contemporary.
The hourlong performance of musical praise is open to the public. Finger foods and snacks will follow the concert. A freewill offering will be accepted.
For more information: Annita, 503-838-4742; Lisa, 503-837-0541.
Life story writing
seminars resume
The "Write It Before You Lose It" life story workshops resume after a break for the summer beginning Monday, Oct. 3, at the Independence Public Library, 175 Monmouth St.
The group meets monthly on the first Monday of the month from 12:45 to 3 p.m. Attendees should bring a notebook and pen.
For more information: Betty Plude, 503-838-4039; Independence Public Library, 503-838-1811.