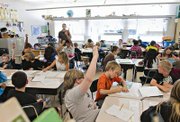 POLK COUNTY -- Shawn Beam has had large classes, with 30-plus children, during his 16-year teaching career.
"I've done this long enough, you can see it coming," Beam said.
But even he was taken aback when enrollment forecasts last spring predicted that his fifth-grade classroom at Ash Creek Elementary School this fall could total about 35 students.
He wound up with 37.
It's been a balancing act so far, Beam said. Desks are strategically arranged in groups so he still has a path to make it to his white board. Grading assignments takes longer. The chance for one-on-one time with students is more scarce.
Beam high-fives or fist bumps every student when they arrive in the morning, if only to get eye contact with them.
"There are times when I go home at night where I'll think to myself, `I didn't talk to this or that student today,'" he said. "The quiet ones, or the ones who don't raise their hands or aren't high needs.
"They're good students and that's what kills me," he added.
Crowded classes are a fact of life in many Oregon K-12 schools. But a combination of fewer teachers and high enrollment at certain grade levels in some schools in the Central and Dallas districts has pushed the situation beyond an already unfortunate norm.
Most classrooms at Whitworth Elementary School in Dallas, for example, have at least 30 children, said Whitworth principal Steve Martinelli.
"In the last six years, these have been our largest class sizes," Martinelli said.
Whitworth is a special case among Dallas primary schools as it receives all of the district's fourth- and fifth-graders. That's one component of the crowding, Martinelli said.
This fiscal year, the school lost two full-time classroom teachers during the last round of budget cuts, as well as a full-time counseling specialist.
"The kids are missing out," said Julie Reimer, a fifth-grade teacher with 32 children in her class. "Students are getting less attention than they need to."
Whitworth has structured its schedule in blocks so teaching assistants can be in classes for key subjects, such as writing and math. But just fitting 32 in a class isn't easy. And lesson plans must be changed to account for lack of space, supplies and time per student, Reimer said.
"We are going to find a way to adapt," she said. But "plans and activities I've done in the past don't work with that many kids."
No classroom in Central is sparse. Central High's freshman class, for example, has nearly 250 students and is understaffed by five to seven teachers, Central interim superintendent Forrest Bell said.
But issues of classroom size seem most pronounced at Ash Creek in Monmouth, which has five classes in grades three, four and five with no fewer than 33 children. The building's rooms were designed for 25 students, said Ash Creek principal Barb Welander.
There are more teachers per K-1 grades than the upper ones, to ensure younger kids have more personal instruction, she said. But the size of third- to fifth-grade rooms prompted the district to hire a part-time teaching assistant and cap fourth-grade enrollment.
The most recently-enrolled students are sent to Monmouth Elementary School. Families have also been given an option of voluntarily transferring their students to MES.
There are practical challenges of trying to manage so many students. It takes longer, for example, to grade tests, to finish a given lesson and transition in-class from one subject to another, Beam said.
"When I say put this away and get this out, the natural tendency is to chat a little bit," he said. "You get that many voices going and it takes longer for them to settle down.
"I fall behind more quickly than I normally would," Beam continued. "But I can't not
(teach) certain things ... we still have to teach and assess as we normally would."
Asked about the size of their class, Beam's fifth-graders said they didn't like how warm and stuffy their room can get in the afternoons. Some, however, found a silver lining.
"I like it," said student Malcom Kaedyn. "There's more people to talk to."