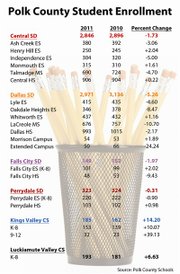 POLK COUNTY -- While classes might seem more crowded to outsiders, some Polk County school districts are seeing declining or flat enrollment compared to this time last year.
Both of the largest districts, Central and Dallas, reported declines in primary and secondary grades.
Dallas School District's September enrollment report has 2,971 students attending its six schools. That's down from 3,136 enrolled at the same time in 2010-11.
The slide surprised school officials, who were expecting a decrease, but not that large of one.
Superintendent Christy Perry said she will be taking a closer look at enrollment and transfer reports to look for trends. However, she said the decrease could simply stem from the depressed local job market.
"There are families that are moving away, moving away for jobs," she said.
Enrollment has a direct impact on school budgets, as districts receive state funding based on the number of students attending classes.
Central School District also saw a steeper-than-expected decline.
Central had 2,846 students in its six schools as of Sept. 16 -- 50 fewer students than at this time in 2010. Numbers were lower than projected, Central interim superintendent Forrest Bell said.
Those estimates are based on several factors, such as springtime enrollment, early kindergarten registration and monitoring of area nursery schools, Bell said.
"We've said in the past that numbers don't seem to settle for the first couple of weeks ... but 50 is a significant number," Bell said. "All you have to do is multiply each child by $6,000 and you have more impacts to your budget."
School districts receive about $6,000 from the state for each average, non-special needs student. Enrollment is reported to the state daily, and appropriation levels are based on tallies in schools on certain dates in October, December, March and at the end of the year in June.
A drop from one year to the next isn't a huge surprise, Bell said.
"We have almost 250 kids more than we did five years ago," he said. "We have a decline from last year to this year, but you have to keep the big picture in mind."
Falls City School District reported 152 students on Sept. 16, two fewer than the same time last year. It doesn't seem like a significant change, but for the size of Falls City schools.
"I watch those numbers like a hawk," said Lynn Love, Falls City business manager. "It gives me a feel for what we'll have to spend."
Falls City has had a steady decline in numbers in the past few years, Love said.
"I notice we might graduate 17 or so kids and we'll bring in 10 to 13 kindergarteners," she said.
Perrydale School District's beginning of the year enrollment is nearly identical to last year, when the school had to reduce enrollment at the high school level to maintain its 1A status with the Oregon School Activities Association. September figures have 324 students attending, with 222 students in grades K-8 and 102 at the high school.
Last year at this time, 323 students were enrolled, 220 in K-8 classes and 103 at the high school level.
Two area charter schools, meanwhile, both saw significant enrollment increases.
Just south of the Polk-Benton county line, Kings Valley Charter School, which gets more than half its enrollment from Polk County, reported 182 students -- including six in a just-added high school senior class. There were 162 K-11 students at Kings Valley last year.
Luckiamute Valley Charter School, a K-8 school in the Bridgeport area south of Dallas, grew by 12 students to 193.