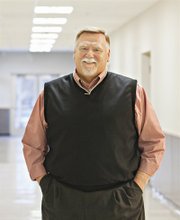 INDEPENDENCE -- Central School District has its new superintendent.
Central School Board unanimously approved a contract for Buzz Brazeau, principal of Hermiston High School, at its Monday meeting.
"The potential to become a superintendent is certainly enhanced with an opportunity and community like this one ... it already feels like home," Brazeau, 62, said. "I appreciate your confidence in me and I guarantee it won't be a letdown."
The board received 30 applicants for the job during the last few months. It selected Brazeau over two other finalists, Dayton superintendent Janelle Beers and Darryl Smith, Jefferson County School District's human resources director, following a community visit by the trio in March.
Board chairwoman Traci Hamilton said it wasn't an easy decision.
But "It was an overall feeling to choose Buzz by all of us ... our time spent in his district, watching him interact with the public," Hamilton said. "The more we talked, the more comfortable we were with him. He rose to the top."
Brazeau will start work with the district July 1.
Brazeau has been a teacher and administrator at the high school level since 1986. He was a chemistry teacher at Franklin High in Portland. He then worked as a teacher at North Medford High School, and later as its assistant principal and athletic director.
In 2004, he was hired as assistant principal at Hermiston High School. Three years later, he was promoted to principal.
Before his career in education, Brazeau was a banker and a professional athlete: he played in the NFL and World Football League for five years.
Hamilton said one of the board's key criteria was somebody who district employees and community members "could rally around."
"We thought Buzz would be a fantastic face for our district," she said.
Contract negotiations essentially wrapped up on March 30. Brazeau's annual salary will be $118,000 and his contract is a straight, three-year term. Extensions must be mutually agreed to by Brazeau and the board.
Officials ended the rolling contract provision used with previous superintendent Joseph Hunter. Under those old terms, the contract automatically extended three years on an annual basis unless the board voted to terminate the agreement.
Also eliminated were automatic salary increases; Brazeau's pay will increase only when the board agrees to raises for all other district administrators.