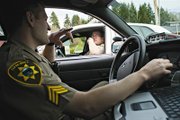 DALLAS -- Polk County's law enforcement agencies, in all likelihood, will be going through significant changes starting July 1.
Due to a $950,000 shortfall in the county's general fund budget for 2012-13, law enforcement agencies will have fewer employees and three departments will be restructured.
In the most dramatic change, the Polk County Jail is slated to lose all eight control room technicians. They would be replaced by three corrections deputies, bringing the jail staff to 20 deputies.
Control room technicians monitor 100 security cameras, make sure all doors are secure, answer inmate cell intercom calls, answer phones, perform data entry and fill out paperwork. If changes move forward, those responsibilities would fall to jail deputies.
"That's a major shift," Sheriff Bob Wolfe said. "When the jail was built, it was designed to be run with control room techs, but I'm trying to maximize what employees I still have left."
Control room technicians work 8-hour shifts, while correction deputies work the floor in 10-hour shifts.
After the end of the current fiscal year, deputies would be placed on 12-hour shifts, with four hours of each shift being worked in the control room.
In another major change, the oversight of Polk County Community Corrections and the Juvenile Department will be placed under one supervisor, meaning the manager of the juvenile department would be laid off.
The departments would maintain separate offices and operations, but would be combined under the management of current Community Corrections Director Marty Silbernagel.
Polk County Administrator Greg Hansen said between the offices, there are two department heads and two lead workers supervising 16 workers, an employee-supervisor ratio of 4 to 1.
"That's a little high," Hansen said. "I felt that was one place we could make a change."
Hansen said he looked at cutting a juvenile probation officer position and reducing funding for detention beds, but he felt that left the department unable to fulfill its duties.
Hansen said proposed changes were the direct result of the loss of federal timber payments. He said the county may have decided to combine oversight of community corrections and juvenile at some point in the future -- when Juvenile Manager Trish Reding was closer to retiring -- but changes in the jail would not have happened without a fiscal crisis.
The cuts to law enforcement didn't stop there.
The Polk County District Attorney's Office will lose one deputy DA position.
"My expectation is that we will be declining more cases than we have in the past," Polk District Attorney Stan Butterfield said.
He said he will not implement a "no prosecute" list for certain misdemeanor crimes and will be evaluating each incident on a case-by-case basis.
The Sheriff's Office also is preparing to lose one patrol deputy, resulting in one of two Sheriff's Office representatives on the Polk Interagency Narcotics Team being pulled. Wolfe said the team will have enough members to operate. But the cut brings the county close to suspending 24-hour coverage.
"My goal is to continue to provide 24-hour coverage as long as we can," he said. "We are the only 24-hour agency in the rural part of the county. It's just getting tough, but we will make it work."