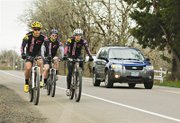 POLK COUNTY -- Evan Plews, a West Salem resident and professional mountain biker, guesses he's pedaled hundreds of thousands of miles in his lifetime.
He's lived in the area for 11 years and trains often on Polk County roads. Plews said motorists are mostly courteous on Ellendale Avenue. Rickreall Road "is a nice ride ... it's quiet."
In all his time in the saddle, he's never collided with a vehicle, though he's had plenty of "elbow brushers" and ended up in ditches to avoid accidents, he said.
"When you hear a car behind you, you hope they'll make the sacrifice (of waiting) for 5 seconds before they try to pass you," Plews said. "When you're a cyclist, it's something you're always conscious of."
Smooth and flat pavement, the roadside scenery and invigorating climbs make Polk County one of the more coveted locales for bike enthusiasts in the Willamette Valley.
Two fatal accidents here involving bikes and vehicles in 2012, however, are reminders of the risks when sharing highways and byways.
Michael Romasco of McMinnville, a riding partner of Plews', said that cycling is "more popular than ever during the Lance (Armstrong) era," and the region more populated.
"It used to be you could go for a ride after work and see just a couple of cars on country roads, but now it's one after another," Romasco said. "There's just a higher possibility now of accidents and maybe less enjoyment on the open road."
There have been three fatal collisions between bikes and motorists in the county since 2002, according to the Polk County Sheriff's Office.
That includes the crashes that claimed the lives of Henry "Hank" Bersani on Highway 99W just north of Monmouth on March 31 and David Apperson on Jan. 27 on Hopewell Road. The last cycling death before this year happened in the city of Independence in 2007.
Dan Shell, a bike mechanic at Santiam Cycle, said he's ridden county routes extensively, with Corvallis and Helmick roads among his favorites. He avoids Highway 51 and Highway 223.
"You get a lot of log trucks on those and I've been pushed off the road too many times," he said.
Shell said backroads here are popular because "you can go 10 to 15 minutes without seeing a car." At the same time, most have little to no shoulder beyond a fog line, he continued.
"You can take liberties when it's slow, but you need to get toward that shoulder when a car is coming," he said. "It all comes down to just being aware of traffic."
Many of the cyclists the Itemizer-Observer spoke with last week said they don't ride Highway 99W because of traffic and trash and gravel that collects on the shoulder.
Because it's flat and uninterrupted by stops, however, that's enough for serious riders to choose it over the dedicated pedestrian and bike path that runs from Monmouth to Salem, said Marshall Guthrie, a cycling enthusiast from Monmouth.
"There are walkers, dogs, joggers ... part of the problem is that there can be competing interests there, even on bad days," Guthrie said.
While he has ridden the highway, he usually uses the path, Guthrie continued.
"It's safety -- if I collide with a jogger, we may end up with something broken or bruised, but we'll walk away from it," he said.
Julie Annen of Keizer said she frequents the hills around West Salem and passes through the site where Apperson was killed -- a blind corner with an incline -- on an almost weekly basis when the weather is good.
Cyclists try to strategize riding times to avoid traffic; for example, Sunday mornings instead of weeknights, Annen said. She rides with partners to appear more visible to motorists, she added.
"It's hard to judge another cyclist, to say what road you should and shouldn't ride," she said. "It won't scare me off them, it just reminds me to be more aware."
Plews said it's not necessary or even feasible to put a bike lane on every road. He opined that the county could benefit, however, from planning a few bike-friendly thruways to connect different areas.
"There are more cyclists now, more cars and pretty much the same number of paved roads," Plews said. "There's just statistically going to be more interactions."