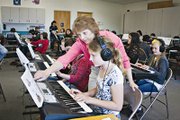 MONMOUTH/INDEPENDENCE -- If you're a teacher in Monmouth and Independence, grant writing is part of your to-do list this time of year.
The Monmouth-Independence Community Foundation is collecting submissions for its classroom enrichment program -- a chance to earn extra funding for class projects or extra materials.
The number of applicants seems to increase every year, which isn't surprising, said Don Duncan, a retired professor from Western Oregon University and a foundation co-founder.
"You never have enough money in a typical public school today," Duncan said.
Because of MICF, there's a little more.
Past grants have paid for replacement reading books or science materials. Keyboards used by students in every elementary music class in Central School District came from a foundation award.
Schools aren't the only beneficiaries. Bike racks, library programs, park equipment -- there are a number of "little things" in Monmouth and Independence that comprise the nearly $300,000 the foundation has distributed during the last 12 years.
"Our general goal is to meet the needs out there and hopefully bring our community together," Duncan said.
The MICF is a nonprofit corporation that provides financial support for educational, civic and cultural activities and facilities -- anything that makes the two towns more livable, said Scott McArthur, who started the organization with Don and Verna Duncan in 2000.
McArthur helped start what was a precursor to the foundation in the early 1990s, to provide Central High scholarships. Duncan, meanwhile, wanted to mimic the successful Salem Foundation's mission of bolstering classroom budgets for teachers.
"Because there were many service organizations around, to avoid falling all over one another, we decided to merge into one foundation," McArthur said.
The Duncans and McArthur provided seed money for an endowment, partnering financially with the public libraries in Monmouth and Independence and the Heritage Museum.
There are a few donors who give to the endowment on a large scale annually, and 20 to 25 smaller contributors, said Cec Koontz, MICF treasurer. Investments and a utility bill rounding program in Monmouth and Independence generates other revenue.
The fund began at $100,000. It's almost $500,000 today, Koontz said.
But "contributions we've received have declined in the last year," McArthur said. "People aren't giving as much as they used to."
Still, the organization is stable. Besides providing grants, it acts as a fiscal agent for small civic groups seeking nonprofit funds; local residents currently trying to build a running trail in Independence are working under the MICF 501(c)(3) banner.
The foundation also manages investment funds for groups such as the Polk County Cultural Coalition.
Having a nonprofit foundation in a community -- even a small one -- is becoming less an amenity and more of a critical necessity, Koontz said.
"It's a vehicle to get outside resources and investments," Koontz said. "If you have an active community foundation, it leads to stronger nonprofits."
Duncan, 85, said he'll remain a part of MICF as long as he's able.
"It's nice to be part of something that might outlive whatever I might do," he said. "If the community and schools buy into it, when we're gone, it will continue."
For more information: www.mifoundation.net.
Get Involved in the Community
*
Residents and groups interested in networking, finding ways to collaborate on civic projects and identifying local priorities for Independence and Monmouth are welcome to attend the IMpact! Community Summit on Saturday.
The event will take place at Independence First Baptist Church, 1505 Monmouth St., and run from 10 a.m. to 4:30 p.m. Continental breakfast, lunch and snack are included. Breakfast starts at 9:30 a.m.
The event is sponsored by the Ford Institute for Community Building and the Monmouth-Independence Community Foundation.
There is no cost to participate in the summit, but registration is recommended. To register, call Alexis at 503-239-4001, ext. 115, or go to www.surveymonkey.com/s/IMpactSummit.
--Craig Coleman