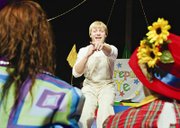 DALLAS -- By the last day of the Oregon Thespians State Festival, Jackson Geiger had talked himself out of thinking he would qualify for the International Thespians Festival in June.
He shouldn't have.
On the last day of the festival, held April 12-14 in Salem, Geiger, a Dallas High School senior, learned he would be headed to Lincoln, Neb., to compete with the best high school actors in the country.
"By the end of the weekend, I had made peace with the idea that I wouldn't qualify," he said last week. "It was nice to find out that I had."
Geiger said he sat in the audience while other actors in the "Solo Acting" category performed their pieces. What he saw was one talented actor after another take the stage.
"I watched my competitors and they were all worthy of going to nationals," Geiger said.
Geiger performed two monologues, one from the play "African Company Presents Richard III" by playwright Carlyle Brown, and the second from "The Imaginary Invalid" by French playwright Moliere and adapted by Oded Gross and Tracy Young.
Even if he did, briefly, Geiger found the judges had no doubts whatsoever about his performance. Judges rate performers with ranks of "Superior," "Excellent," and "Good." To earn a trip to nationals, an actor had to earn at least one superior rating. The judges gave Geiger two -- and five excellents.
"I wasn't expecting that," he said. "That was a nice surprise."
Dallas High School theater teacher Blair Cromwell said Geiger is the third DHS student to qualify for the international festival since 2009. She said the Oregon Thespian contests give students a chance to expand their range.
"This allows students to perform material that their high school wouldn't be able to do because it's too difficult or not appropriate for their community," she said.
The International Thespian Festival is June 25-30. Geiger said he's going to enjoy the experience.
"State completely took me by surprise because I had never gone before," he said. "I don't know what to expect. I'll await to find out."
Joining Geiger in being honored at the state festival was Ashley Johnson, a senior, who took first place in the stage management category.
Ashley Johnson
Stage managers aren't typically seen by the audiences, but their influence is interwoven through each performance. They are in charge of calling cues for the actors, lighting, music and set changes. In a nutshell, they run the technical aspects of the show.
Stage managers keep a notebook in which all the cues and when to call them are listed, based on the wishes of the director. Johnson said good managers have the stage direction so clearly explained that their assistant could pick up the notebook and call a show. Johnson submitted her notebook from this year's winter production of "Almost, Maine."
Contest judges evaluate the notebook for clarity and interview each candidate about their process.
"I was really excited," Johnson said. "This was the first year I was in the contest and the first year I had placed at all. It wasn't expected."