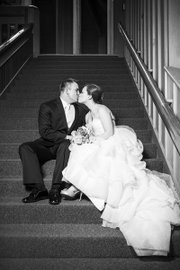 Burke-Patterson
Elizabeth Marie Burke of Dallas and Scott Lee Patterson of Roseburg were married June 16 at the World Forestry Center in Portland.
The Rev. Steve Sharp officiated the ceremony.
The bride is the daughter of David and Ki Nam Burke of Dallas. The groom is the son of Jack and Hannelore Patterson of Rodenbach, Germany.
Maid of honor was Rachel Wadsworth. Bridesmaids were Melody Burke and Jane Burke.
Best man was Ryan Chandler.
Elizabeth, a 2004 graduate of Dallas High School, received her Bachelor of Science in mathematics from Western Oregon University in Monmouth in 2008 and her Master of Arts in teaching from WOU in 2010. She is employed as an actuary at The Standard in Portland.
Scott, a 1997 graduate of Kaiserslautern American High School in Germany, received his Bachelor of Science in mechanical engineering from Oregon State University in Corvallis in 2005. He is a mechanical project engineer at Georgia Pacific in Clatskanie.
The newlyweds honeymooned at Disneyland. They make their home in Portland.