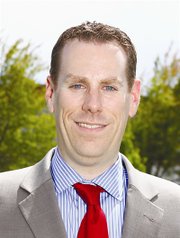 MONMOUTH -- Since Daniel Hare arrived on Western Oregon University's campus as the school's athletic director in February of 2010, much has changed.
WOU found a new president in Mark Weiss, promoted from his interim title in June.
But the main change for Hare happened in a much more personal matter -- the birth of his child, Brooklyn, earlier this year.
"We didn't have our daughter when we moved out here -- it was just my wife and I," Hare said. "So having Brooklyn in January ... that was a game-changer for us."
That game-change means WOU will have to find a new athletic director.
After two and half years at the helm, Hare has chosen to resign to take a position at his alma mater, Baylor University Law School.
His new title won't involve athletics, either: Hare is set to become the law school's director of career development.
Hare returns to Baylor after serving as its athletic development officer from 2003-06.
"Obviously, not having family out here with our parents being both back in Texas and Oklahoma -- that was a significant factor," Hare said, while noting that wasn't the only reason.
"I think from a professional standpoint, there was a fairly significant shift in philosophy of just everything that was going on before," Hare added.
"... Leadership has changed and I think going forward, it will be good for Western Oregon to have sort of a fresh face here. I kind of look at it as a positive for everyone."
During Hare's tenure, he initiated a five-year strategic plan for the department, established the school's first sports performance program and created the full-time sports performance director position, now occupied by Cori Metzgar-Deacon.
"I am grateful for the contributions made by Daniel and I appreciate his accomplishments," Weiss said in a WOU press release. "I wish both Daniel, his wife Adrienne and their daughter Brooklyn all the very best as they return to their roots and families."
WOU is now in the process of naming an interim athletic director in advance of a search for a full-time replacement.
Hare will resign his position effective Sept. 7.