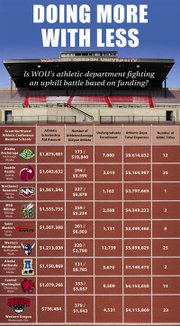 National scholarship averages (2010-11 academic year)
$1,627,051 -
-
average athletically-related student aid per institution for NCAA Division II schools with football (156 schools).
$1,325,307 --
average athletically-related student aid per institution for NCAA Division II schools without football (136 schools).
$736,484 --
Western Oregon University's total athletically-related student aid.
*information provided by the Equity in Athletics Data Analysis Cutting Tool (EADA), provided by the U.S. Department of Education.
MONMOUTH -- For Greg Bruce, it's happened too many times.
Oh-so-close to signing a top in-state recruit for his Western Oregon University women's basketball program, the seventh-year Wolves coach watched as another would-be player got wooed -- with plenty of dollar signs -- by someone else.
Greg Bruce
"Her mom says, `Coach, we'd love to come, but Saint Martin's made her a better deal,'" Bruce, who spent 15 seasons as the head coach at Portland State, Northern Colorado, Cal State Bakersfield and Fort Lewis universities prior to WOU, recalled.
"... You look at the conference and you look at all these Oregon kids that are on people's rosters and people ask you, `Why didn't you recruit her?' Well, we did, but they chose to take a full-ride compared to a two-thirds ride at our school.
"You can't blame the kids, can't blame the families," he added. "I'd probably do the same thing if it was my son or daughter. Once in a while, we might be attractive because of our location or because our major program is better.
"But since we are underfunded, our (win-loss) record is not as hot."
Money rankings
The problem of underfunding is not just limited to women's basketball.
In the NCAA Division II's 10-team Great Northwest Athletic Conference, WOU's athletic department is ranked dead last in athletically-related scholarship aid with $736,484 available for its 13 teams, as reported for the 2010-11 academic year -- figures for the 2011-12 school year are not yet available -- by the Equity in Athletics Data Analysis, or EADA, a public website provided by the U.S. Department of Education.
Ironically enough, the Wolves rank the highest in a category that makes that dollar amount even smaller: number of student-athletes, with 379.
Conversely, fellow GNAC member the University of Alaska Anchorage has the largest amount of athletic scholarship money at $1,875,481. The Seawolves, who do not offer football, have just 173 total athletes, giving the average student close to $11,000 each in scholarship money to attend a school with comparable tuition costs to WOU, both in-state and out.
The difference?
WOU's student-athletes average a little less than $2,000 of athletic aid each to attend -- IF they have in-state residency -- a $7,818-a-year school. That's just for tuition. Tack on upward of $1,500 for books and supplies, nearly $9,000 for room and board and close to $3,000 for transportation and personal expenses, and student-athletes are looking at more than $19,000 a year coming out of their own pockets.
Out of state? Tack on about $13,000 more.
"I think if you were going to plug everyone in the standings looking at their resources, we would finish near the bottom, or at the bottom, in almost every sport," said Daniel Hare, WOU's athletic director who recently resigned effective Sept. 7.
Daniel Hare
Do other schools have a major recruiting advantage because of this discrepancy in funding?
"They absolutely do," Hare said. "It can't be about money, because we'll lose that battle. This is the coaches' job - this is the recruiting job they have to do. You are going to have to convince someone to take less money to come here, and why should they do that?"
Budget breakdown
WOU's athletic department reported $4,115,869 in spending to the EADA for the 2010-11 academic year.
That number includes all operating, travel and recruiting expenses, all coaches salaries and total athletic scholarship money for 13 teams: football, men's and women's basketball, baseball, softball, women's soccer, men's and women's outdoor and indoor track and field, men's and women's cross-country and volleyball.
The source for that $4.1 million budget?
-- About half -- $2.2 million -- came from the state of Oregon, or the school's general fund. This money goes primarily to coaches' and administrator's salaries, plus about $170,000 to athletic scholarships. The problem with state money -- which includes funding for the entire university -- Hare said, is it keeps shrinking. It did a year ago, forcing the cut of 2.5 positions, including a full-time assistant football coach.
-- A quarter -- around $1 million -- was from student fees, regulated by the student-run Incidental Fee Committee, or IFC. This money primarily covers game-day operations, equipment, apparel and travel expenses for all the sports, plus any extra money -- if the students say "yes" -- for special projects. Two years ago, the IFC provided half of the money requested for a new position: a sports performance director, now held by Cori Metzgar-Deacon. This resource area has been the most stable, according to Hare.
Photo by Pete Strong
In 11 seasons in the GNAC, the men's basketball program has a .417 winning percentage and hasn't won a conference title. The squad operates on about 5.5 scholarship equivalencies.
-- About an eighth -- around $500,000 -- came from the state lottery. That money is used primarily for scholarships, with a portion going toward operating expenses. This money, unfortunately for WOU, tends to fluctuate with the economy. Last year, it fell about $100,000 short of its projected number, leaving WOU scrambling to make up the deficit.
-- Another eighth -- $500,000 -- is from generated revenue, including ticket sales, merchandise, licensing WOU's logo, fundraisers, camps, guarantee games and the department's booster organization, the Wolves Club, and its primary moneymaker, the annual athletic auction.
And while WOU's total expenses don't differ much from most of the GNAC -- only Western Washington, Alaska Anchorage, Alaska Fairbanks and Seattle Pacific have total reported costs of $5 million or more -- it's important to note that the inclusion of football accounts for a large portion of expenses that none of the aforementioned schools have to worry about.
Only WOU, Central Washington and newly-crowned NCAA member Simon Fraser of British Columbia, the first non-American NCAA school, have football in the GNAC.
Humboldt State (Arcata, Calif.), Dixie State (Saint George, Utah) and, beginning this season, Azusa Pacific (Azusa, Calif.) participate as football-only affiliate league members.
"We're one of six schools west of Colorado in Division II that has football and when you start comparing those EADA records, you're going to see that our budget might look fairly close to Seattle Pacific's, or someone elses," Hare said. "But you basically have to take a million right away from that. Carve out football, and then what does it look like?"
The problem is that WOU still falters in comparison of athletic scholarships, even with its closest cousin in size, tuition and fellow football foe, Central Washington. The grand total for athletic scholarships for the Wildcats is $1.01 million.
In fact, for every other GNAC school except Simon Fraser (data was not available), that athletic scholarship total is upward of $1 million.
But how much does that number matter when it comes to winning?
Does less money hurt success?
Since WOU, one of eight charter members of the GNAC when it formed in 2001, made the jump from the NAIA to NCAA Division II, its success has varied across the board.
Graphic by Pete Strong
*Montana State Billings' winning percentage is determined over five seasons, since MSUB joined the GNAC in 2007-08. NOTE: Total Athletic Scholarship Amount is the entire athletically-related aid amount for each institution's entire athletic program, not just for women's basketball. Information is from the 2010-11 school year as reported by the EADA.
"It all gets down to what your unit of measure is," said former athletic director Jon Carey, who held the post from 1993-2010.
Take a look at what the women's basketball program used to look like in its days in NAIA -- two national championships (1995 and 1996), nine national tournament appearances and 16 20-win seasons from 1979-1998 -- and today's NCAA version might make one cringe. In the past 11 seasons, the women's hoops program has had just one team finish over .500 and four more have had 20-loss seasons.
Turn toward the baseball field, however, and the 11 glittering GNAC championships might make you forget all about the agony the women on the hardwood have endured.
"Again, it depends on the sport," Carey said. "Any time we can win a GNAC title, that's a big deal. We recognize we're underfunded, that we're understaffed, but we've done a good job utilizing the advantages that we do have."
Baseball ranks at the top of the success chart for WOU, but the track and field teams -- the men and women have won a combined nine GNAC outdoor championships -- are in a close second.
Football (five winning seasons) has remained competitive and men's basketball (five winning seasons) made a huge breakthrough in head coach Brady Bergeson's first year at the helm in 2011-12, when the squad won the most games (18) it ever had in Division II.
Softball (four winning seasons) won a GNAC title in 2008, but has struggled in other years. The volleyball team pulled off the same feat in '08, but has just four winning seasons after reaching the NAIA national tourney 11 times (1985-1999).
In all, WOU has won 23 GNAC titles in 11 seasons. That's second only to Seattle Pacific (35) and Western Washington (25). Central Washington has 14 to its claim.
"I think when you start to look at the resources that we do have, I think our coaches and their athletes overachieve pretty significantly relative to their resources," Hare said. "And then when we're winning conference titles in some sports, I don't know if our coaches and our athletes get enough credit for that."
Fighting the good fight
How often does Bergeson think about money when it comes to recruiting?
"Every day," the second-year head coach said with an exasperated laugh that displayed all too well the struggles he and his staff face in bringing quality recruits to a program that can't match, at least money-wise, all of its competitors.
Photo by Pete Strong
Both the men's and women's track teams at Western Oregon have done well in recent history. In 11 seasons, the men's team has won five outdoor titles and the women's team four.
"The beautiful thing about Division II is that every place is so very uniquely different, not only in area and conference, but also just the nature of the schools," Bergeson said. "But also, it's the one level where there's really `haves' and `have-nots' and a vast disparity in funding."
The good news for Western is its staff -- as a whole -- has learned how to see the glass as half-full, not half-empty.
"We're well-trained in the old cliche `Do more with less,'" Bergeson added. "That's well rehearsed around here."
For both basketball teams, that's a tough pill to swallow in a conference whose primary focus is on hoops.
Last year, Bergeson operated on about 5.5 in-state scholarship equivalencies. Bruce, on the women's side, had 5.28.
According to each of them, the majority -- if not all -- of the other GNAC schools have 8.8 to 10 (the NCAA Division II maximum) scholarship equivalencies available to their programs.
And Bruce faces one more glaring omission.
"We might be the only one now that does not have a full-time women's basketball assistant (coach)," Hare said. "That's been the position that I've been trying to push for."
So how do you compete in a recruiting battle with schools that can possibly offer full-rides to both their starting and second-string lineups?
"What we do is find those kids that fit the niche that are Western Oregon-type kids," Bergeson said. "For us, it's finding guys that want to play, that want to really be able to focus on basketball and on school."
Utilizing Oregon recruits is huge for both programs -- it allows athletic aid to be stretched that much further -- but both coaches also know staying in-state can't fulfill all their needs.
"Some have been more successful recruiting Oregon kids and I think some sports are stronger in the state than others," Bruce said. "But I think Oregon high school girls basketball is down and continues to be down, so the kids that we can get or should get, there's not that many of them. There's a big gap between the really good players and the ones that can help us.
"To be honest with you, I would like to recruit Oregon kids primarily because we're a state school, but my recruiting class this year is basically from out of state."
From the athlete's view
From women's soccer to men's basketball, from baseball and softball to track and field, one thing is clear: money isn't a factor in the heat of battle.
"I think we have an idea (of the difference in funding), but I really think we've all taken on the perspective of not worrying about what we can't change," Ryan Hansen, a junior on the track and field teams and former pitcher on the baseball squad, said.
Kendra George
"That's pretty much not what's on our minds. When I get on that starting line, it's anyone's game - you don't bring money onto the field."
For former softball player Kendra George, it came down to academics.
"I wanted to go to Western -- that's where they had my major -- I wanted to play softball, but if I couldn't play here, I could get my education," she noted.
George ended up walking on and made the team, later earning a partial scholarship.
Blair Wheadon, an all-conference point guard who spent four years at WOU, said he chose the school because it was the next best option when several interested Division I schools wouldn't offer him a scholarship.
"I think a lot of people, at least in Oregon, look at Western if they're not going to play Division I and don't want to play NAIA -- they sort of have an advantage," Wheadon said.
WOU is the lone NCAA Division II school in the state.
Once he arrived, Wheadon said there was never a question -- at least in his mind -- if his team could compete with every other team in the conference.
"I'll say that I've had coaches that have used that as an excuse somewhat, but us players ... we all felt like we were just as good, if not better, than the other teams," he said.
That excuse is something the entire athletic program -- if it wants to continue to succeed despite the disparities in funding -- can't allow.
"I don't think there's a replacement for scholarship money and I don't think there's a more important variable for our sport," Bergeson said.
"So yeah, without a doubt, those fully-funded teams with eight to 10 scholarships, it's a tremendous advantage. But that doesn't mean that we can't compete with those teams. It means that we have to have creative solutions for the places that we lack.
"We can't use that as an excuse -- that just can't happen."
Can WOU keep `overachieving?'
Hare's exit -- he's returning primarily for family reasons to his alma mater, Baylor Law School, to take a position as its career development director -- came suddenly.
His five-year strategic plan is just two years in and WOU's future as an athletic program remains steady, but uncertain.
Can it continue to overachieve despite its underachieving financial support?
"That's what we challenge the coaches and student-athletes with every day," Hare said. "We're pushing everyone here to overachieve and do more than what should probably be expected of you.
"We may not always hit every goal that we have, but we're going to do everything that we can and we're not going to lower our goals or expectations to our resources' levels. We're not going to do that and I don't think our kids or coaches do."
WOU SCHOLARSHIP BREAKDOWN
WOU's total athletic scholarship amount in 2010-11 was $736,484. Here's how the Wolves divide that money up, in terms of full scholarship equivalencies.
12 -
Football
5.5 -
Men's basketball
5 -
Women's basketball
6 -
Volleyball
4 -
Baseball
4 -
Softball
3 -
Women's track and field/cross country
2 -
Men's track and field/cross country
2 -
Women's soccer
NOTE:
These numbers are estimates, according to WOU Athletic Director Daniel Hare. Equivalencies can be divided among players as needed.