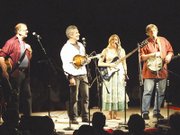 Hospital auxiliary
fundraiser slated
The West Valley Hospital Auxiliary is holding a "$6 sale" fundraiser Thursday from 8 a.m. to 5 p.m. and Friday from 8 a.m. to 3 p.m.
Every sale item is priced at $6. Products for women, men and children available for sale include fashion and seasonal accessories, jewelry, gadgets, gifts and more. Proceeds benefit the auxiliary's scholarship fund offered for Polk County graduating high school seniors.
The fundraiser will be held in the hospital conference room, directly inside the front entrance, 525 SE Washington St., Dallas.
For more information: 503-623-7323.
Outreach center
plans open house
An open house and luau celebrating another year of New Hope Community Outreach Center providing services to the area takes place Friday from 11 a.m. to 2 p.m.
The center at 260 SW Mill St., Dallas, is the county's only free outreach program for people struggling with mental health and related issues, as well as their caregivers.
The luau will include food, music, beverages and an opportunity to learn more about New Hope programs.
While the event is free, donations will be accepted. The event is for those age 18 and over.
For more information: Michele Campione, executive director, 503-831-3996; e-mail to director.newhope@gmail.com; on Facebook at New Hope Community Outreach Program.
Saturday breakfast
slated in Monmouth
Monmouth Senior Center will host its monthly all-you-can-eat community breakfast fundraiser on Saturday from 8:30 to 10:30 a.m.
Cost is $6 per person, $3 for children under 12. The meal includes pancakes, sausage, scrambled eggs, biscuits and gravy, and orange juice, coffee and tea.
Proceeds benefit the Monmouth Senior Center building expansion fund. The center is located at 180 S. Warren St.
For more information: 503-838-5678.
Flea market on tap
at Rickreall Grange
A weekend flea market takes place Saturday and Sunday from 9 a.m. to 4 p.m. at the Rickreall Grange Hall, 280 Main St. (Highway 99W).
A variety of vendors offering an assortment of new and slightly used items will be on hand. A few vendor tables remain available for rent.
Breakfast and lunch will be available for purchase both days.
For more information: Blanche Pryor, 503-623-8289.
Polk Flea Market
reopens on Sunday
The popular Polk County Flea Market reopens for the 2012-13 season Sunday at the Polk County Fairgrounds & Event Center in Rickreall.
This is the 42nd year for the well-known gathering place for local bargain seekers. The Polk Flea Market has more 100 permanent vendors who fill 185 tables with an ever-changing variety of merchandise the first Sunday of the month from September through July. Shoppers can find everything from antiques and collectibles to crafts, sundries and old tools.
Regular admission from 9 a.m. to 3 p.m. is $1, with children 12 and under admitted free. Early admission from 6 to 9 a.m. is $5.
For more information: 503-623-3048.
DAS crafters make
pillow donation
Several members of the Dallas Area Seniors recently made and donated 42 heart-shaped pillows to Salem Hospital.
The pillows are given to heart surgery patients to ease the trauma when they cough, sneeze, or are belted in their cars following surgery.
This is the third year that Dallas Seniors has donated pillows to Salem Hospital.
Any donations of material or new polyester fiberfill for making additional heart pillows are welcome. These may be dropped off at the Dallas Senior Center, located on the east side of the library at 955 SE Jefferson St.
For more information: 503-623-8554.