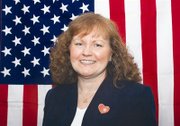 DALLAS -- The first time Wanda Davis heard President Barack Obama speak in person, he was vying for the Democratic nomination in 2008.
She attended his primary campaign stop at the Salem Armory.
"I actually ended up in the section behind him, as part of the backdrop," she recalled. "There's this one picture of me sitting there grinning like a fool."
Four years later, her excitement about the prospect of hearing Obama speak again next week during the Democratic National Convention in Charlotte, N.C., certainly hasn't waned.
If anything, she's looking forward to hearing him speak for the second time even more than the first.
Davis, a Dallas resident, was elected June 2 to represent Oregon's 5th Congressional District at the convention, Sept. 3-6. She will be part of an 84-member delegation representing Oregon.
"I still can't believe that I was elected to go," she said in an interview last week. "That was pretty exciting."
Having only gotten seriously involved in the local Democratic party in the last few years, Davis said it has been a fun learning experience. She was just recently re-elected as a precinct committee person and is serving a two-year term as the Polk County Democratic Central Committee vice president.
"I'm meeting a lot of really cool people and feel we are doing some really good work," she said.
At the national convention, she doesn't plan to waste a minute of the opportunity to represent Polk County.
She's planning to attend Veterans and Military Council and Rural Council meetings, as well as the Women's Caucus.
"I hope to get to talk to some folks, to see what other counties or groups are doing to help veterans and military families," Davis said. "For me, the emphasis on the rural counties is important. ... I want to see what other counties are doing, ways they are supporting folks in their counties."
Of the evening headline events, she said she's looking forward to hearing First Lady Michelle Obama, Massachusetts Senate candidate Elizabeth Warren and keynote speaker and San Antonio Mayor Julian Castro speak.
Davis has high expectations for Obama's acceptance speech Sept. 6. She hoping he will expound on his campaign slogan key word, "Forward."
"I'm expecting him to be talking about what we can accomplish together and what he thinks we need to be doing to move forward," she said.
Locally, she said members of Polk County's Republican and Democratic parties already have a game plan for doing just that.
"As far as Republicans versus Democrats, I have the personal opinion that we are all Americans and Oregonians first," Davis said. "I'm working with some folks in the Republican Party locally to do some things."
She said local representatives of both parties have at least one issue they agree on.
"We're of the opinion that things at the national level have gotten a little out of hand with the rhetoric and we think we need to set the example for the big guys," she said.
Davis will be blogging about her experience in Charlotte, at www.wandaincharlotte2012.blogspot.com.
--
Of note:
Independence resident Debora Nearman is representing Oregon's 5th Congressional District as an alternate delegate at the Republican National Convention in Tampa, Fla., this week. She could not be reached for comment before press time.