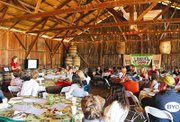 BUENA VISTA -- Michele Pishong McCormack adores "really hoppy" beers. When Terminal Gravity, an Eastern Oregon-based microbrewery, came out with its India Pale Ale, "I couldn't get enough of it."
"But it's interesting to try things," she continued, taking a swig of a brown, small batch brew concocted in Rogue Farms' nanobrewery.
"This is awesome," McCormack said. "It has a little sweetness, it tastes ... summery."
McCormack discovered the joy of microbrews when she moved to the Pacific Northwest 18 years ago. The Nebraska native said she gets ridiculed for her adopted passion every time she returns to visit the Midwest.
"They accuse me of being a beer snob because I won't drink Bud Light," she said. "I look at girlfriends who I might have drinks with, and they're having wine or cosmos.
Photo by Pete Strong
Jane Mailloux of Portland, left, and Diane Lancon of Beaverton sample a pilsner from different glassware during writer Lisa Morrison's "Alchemy of Glasware and Beer" workshop.
"I'm the only beer drinker ... but I love beer."
McCormack was preaching to the choir at Rogue Farms last Wednesday. She and perhaps two dozen other female beer enthusiasts and professionals visited the hopyard for "Farm to Bottle," an educational workshop and presentation coordinated by Portland's chapter of Barley's Angels.
The organization, which has chapters across the United States and abroad, focuses on making craft beer fans out of more women and educating them on the process and culture of creating suds.
Christine Jump, director of Barley's Portland chapter, as well as an executive assistant at Rogue, helped put together what she hopes will be an annual gathering of women at the Rogue farmstead outside of Independence.
Jump got involved in the beer business 13 years ago through her late husband, who was also brewmaster at the old Wild Duck Brewery in Eugene.
"Here was a woman who had never liked beer before," she said of herself, noting she converted after sampling barley wine and Belgian beer. "It turned out I like big, bold flavors."
Jump said because of the number of women who are getting into brewing or working for small breweries in some capacity, the time was right to try and reach out to a new demographic.
Photo by Pete Strong
Kimberly Taylor, left, and Rhiannon Boettcher, both of Portland, break open and smell hop cones fresh from the bines during a tour of Rogue Farms' fields and hop production facilities.
What sparked the workshop was the number of female consumers she's talked with wanting to learn more about beer who aren't in the industry, Jump said.
For most of the day, beer drinkers toured fields, learned how hops go from bines to bales, and how best to pair food with your favorite brown ale or British-style bitter.
Teri Fahrendorf of Portland, founder of the Pink Boots Society for woman beer professionals and the state's second female brewmaster, gave a talk on beer vacations.
During a presentation on how glassware influences the beer drinking experience -- trust us, it does -- Judith Schmidt, a Portland food broker, sipped a pilsner from a wide glass with an angled mouth that forces the aroma toward your nose.
"Amazing," said Schmidt, a fan of dark beers who runs a food brokerage. "It tastes heavier that way and a pilsner isn't a heavy beer."
A big point of the day was fighting the notion of beer as "guy territory."
Lisa Morrison, a writer who also hosts the "Beer O' Clock" radio show on Saturday on Portland's KXL-FM 101.1, said it was women who handled household brewing centuries ago in Europe. Men took over when the industrial revolution moved brewing to the marketplace. It's gradually become a drink aimed at men, Morrison said.
Photo by Pete Strong
Rogue Farms Hopyard Manager Natascha Cronin leads the tour group through the kiln facility where hops are dried after being picked from the bines and before baling.
"The larger macrobrewers would use marketing dollars on things like having scantily clad women hanging around pitbull terriers to show how enticing beer was," she said.
Julia Herz, craft beer program director of the Brewers Association in Boulder, Colo., was one of the day's guest speakers. Herz said craft beer has lured in more women drinkers in the last eight to 10 years because of nongender-specific advertising and a variety of beer styles and flavors "beyond light American lager."
The farm-to-table movement has also helped, she said.
"Look at where we're at," Herz said after touring the hopyard. "Craft beer is romantic and complex and you can go as deep as you want with it ... it's not just the product inside the glass, but how you grow the ingredients and the process behind it."
McCormack, who lives in Salem and teaches at Chemeketa Community College, said that's part of what she enjoys about craft beer.
"My friends always want to go wine tasting ... that's fine, wine's OK," she said. "But I'm going to make them go beer tasting with me."