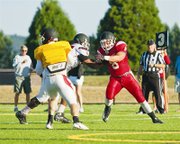 SEASOON OPENER
GRAND VALLEY STATE AT WESTERN OREGON
Preview:
Third-year head coach Matt Mitchell brings NCAA Division II's seventh-ranked team to Monmouth in a rematch from last season. The Lakers went 8-3 in 2011 and defeated WOU in their home opener in Grand Rapids, Mich., 44-20. GVSU, with seven of its top nine returning on defense, is picked to win the Great Lakes Intercollegiate Athletic Conference in the league's coaches' poll.
When:
Saturday, 1 p.m.
Where:
McArthur Field, Western Oregon University, Monmouth.
Tickets:
$15 adult reserved; $12 adult general stadium; $10 adult end zone; $15 senior/student reserved; $10 student general admission; WOU students, free. Tickets available at the stadium, online at www.vendini.com, or by calling 503-838-8051.
MONMOUTH -- With his final college football season quickly approaching, Bryce Peila doesn't have time to gloat about his past accomplishments.
Neither does the rest of a star-studded Western Oregon University defense that could easily believe it is entitled to success.
"We're a good defense, but we're not by any means where we want to be though," the senior safety said bluntly.
"We have the ability to be a good defense and shut people out -- but as far as right now, we're not settling.
"We're looking to get better."
That could be a very scary thought for WOU opponents this season.
The Wolves return 14 starters from a 2011 squad that went 6-5 overall, 6-2 in the GNAC, and was one win short of its first Great Northwest Athletic Conference championship.
Eight of those returners are on defense; five of those are all-GNAC performers.
Peila, a Beyond Sports Network first-team preseason All-American, is just one name on a formidable WOU defense, and the Crater High product has the numbers to back it up.
Peila had nine interceptions in 2011 -- tied for second in the country in NCAA Division II -- to go along with 58 tackles and a GNAC record of 243 return yards from those picks.
The good news for Wolves fans is that the senior is far from finished, and it's shown through fall camp.
"The most positive thing that Bryce has done this year above any other is he's practicing fast," WOU seventh-year head coach Arne Ferguson said.
"We can see day-to-day that it's not a given (for him) or he's more talented -- it's the effort that stands out."
Peila is not the only one.
Senior defensive end Gavin Drake, last year's GNAC co-Defensive Player of the Year, has made a habit of swarming WOU quarterbacks leading up to Saturday's rematch with nationally-ranked Grand Valley State (Mich.).
He knows that when you add in returners like all-GNAC linebackers Scottland Foss and Devin Wells and all-conference defensive lineman Gustave Benthin, WOU has something exceptional.
"You know, we're very excited," Drake said. "The defense that we have together now, we have a lot of seniors and guys that have been around four, five years. I really think our defense is going to be something special this year.
"We're excited to go out and show what we've got."
With an unproven offense, notably at the lineman and quarterback positions, that defense will be counted upon even more to keep WOU in the hunt for a conference title.
Photo by Pete Strong
WOU's Bryce Peila, center, was second in NCAA Division II in interceptions in 2011 with nine pickoffs.
Gone is last year's quarterback Evan Mozzochi, who ranked second in the GNAC in total offense.
Replacing him, according to Ferguson, will be two players: junior Cody VanAppen, last year's mobile backup, and sophomore Trey Shimabukuro, who has yet to see action.
"I'm not concerned about naming one the starter," Ferguson said. "Throughout the year, both will play and have a significant part in the outcome of games."
Replacing the void at left tackle left by NFL draft pick Jason Slowey won't be easy, either.
Sophomore Alex Jones (6-3, 280) is set to fill that role, albeit in a different way.
"He's developing into a solid left tackle, but he's not Jason Slowey -- very few people are," Ferguson said.
Sophomore Trent Gallegos (6-4, 300) and Central High alum Marcus Cuellar (6-5, 280), a junior, will join center Paul Gutzman (all-GNAC honorable mention) on the offensive line effort.
Tyrell Williams and Josh McFarland lead a wide receiver position boasting depth, while Kenneth Haynes (all-GNAC second team) and freshman Brian Harris should compete at the running back spot.
As the offense finds its groove -- and the Wolves won't have much wiggle room to make mistakes against a national power like Grand Valley - the defense knows it has a job to do.
That's normal, said Ferguson, who also serves as the defensive coordinator.
"To be honest with you, with our program, we've always put a lot of pressure on our defense -- a lot," he said.
"So it's not something that they're not used to. We put a lot of pressure on them in practice and in games we expect them to do their job, which is to get the football, score the football and give it back to the offense."
WOU, picked third in the GNAC Preseason Coaches' Poll behind defending champ Humboldt State and Central Washington, won't have it easy -- but that's OK.
"We know, on paper, we're not picked to be No. 1," Peila said. "But I've been here for five years, and we have a great team this year.
"We have a lot of skilled and determined and hardworking guys on this team that are willing to sacrifice for the team. The biggest thing is how well we can come together and how soon we can do that."
NO PLACE LIKE HOME
WOU has six home games this season, the most the squad has had since 2005. Here are the dates:
Saturday: Grand Valley State
Sept. 15:
Central Washington
Sept. 22:
Simon Fraser
Oct. 13:
Dixie State (homecoming)
Oct. 27:
Azusa Pacific
Nov. 10:
Humboldt State
2012 WOU FOOTBALL
Coach:
Arne Ferguson (eighth season, 45-30).
2011 record:
6-5 overall; 6-2 Great Northwest Athletic Conference, second place.
Returning starters:
14.
By the numbers:
10 - Number of All-GNAC performers back for the Wolves, including five on defense.
Key returners: Offense:
Cody VanAppen, sr., 5-10, 200 QB (Kailua, Hawaii); Kenneth Haynes*, sr., 5-7, 175 RB (Marin City, Calif.); Tyrell Williams*, so., 6-4 200 WR (Salem); Paul Gutzman*, jr., 6-3 290 C (Grants Pass); Lucas Gonsalves*, jr., 5-9, 175 PR; Kelly Morgan*, sr., 5-10, 160 K (Sherwood).
Defense:
Gavin Drake*, sr., 6-3, 265 DL (Portland); Gustave Benthin*, jr., 6-2, 285 DL (Nampa, Idaho); Scotland Foss*, sr., 6-3, 235 LB (Albany); Devin Wells*, jr., 6-2, 255 LB (Beaverton); Bryce Peila*, sr., 6-1, 185 S (Central Point).
Newcomers to watch:
Trey Shimabukuro, so., 6-3, 205 QB (Lihue, Hawaii); Joe Harris, fr., 6-1, 170 RB (Waianae, Hawaii); Alex Jones, so., 6-3, 280 OL (Portland).
Local ties -
Marcus Cuellar, jr., OL (Central High); Pete Finnegan, fr., OL (Central); Trenton Gallegos-Ellington, So., OL (West Salem); Alexander Bradt, fr., LB (West Salem); Shane Kuenzi, fr., LB (West Salem).
(*2011 All-GNAC performers)