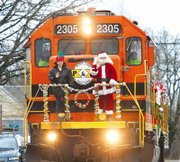 Hospice set to host
memorial gathering
Willamette Valley Hospice will host its annual Light up a Life Memorial Gathering, scheduled Thursday from 4 to 6 p.m. at 1015 3rd St. NW in West Salem.
The Light up a Life Memorial Gathering creates the opportunity for the community to come together and honor their loved ones through a nondenominational memorial service and candlelight vigil. This will be a time for remembering and reading the names of loved ones who have died.
A time of gathering and refreshments will follow the memorial service. All are welcome.
For more information: Willamette Valley Hospice, 503-588-3600.
Zen Circle to host
speaker Thursday
Valley Zen Circle will host a presentation by Jerry Braza on Thursday at 6 p.m. following the group's regular 5:30 p.m. meditation session.
Braza is a Dharma teacher and an ordained member of Thich Nhat Hanh's Order of Interbeing. Hanh is considered one of the foremost Buddhist teachers alive today. Braza will speak during the anniversary week of the Buddha's awakening to take questions and share Hanh's particular take on the Buddha's teaching and what it means to be awake.
The event, free and open to the public, takes place in the lower level of Christ's Church, 412 Clay St., Monmouth.
For more information: Jill Washburn, 503-623-8600; http://valleyzen.weebly.com/.
'Save the Falls'
fundraiser slated
The Falls City Alliance is hosting a casino-themed fundraiser to "Save the Falls" at Rabbit's Burgers, Bourbon & Beer, 186 SW Court St., Dallas, on Saturday.
The event includes live auctions, blackjack, craps, Texas Hold'em and multiple raffles. Prizes include a 40-inch flatscreen TV and a six-drawer tool chest with tools.
There's no cost to attend, but participants can pay $10 to $20 for "funny money" that can be used to play games. The bogus bills can also be used to purchase raffle tickets.
The fundraiser runs from 3 to 9 p.m. All proceeds go to the Falls City Alliance, which is trying to reclaim the north access path to the falls on the Little Luckiamute River.
For more information: 503-871-6527 or email to loriandlaura@msn.com.
Holiday social
planned at MSC
Tickets are still available for the Monmouth Senior Center's Christmas Social, scheduled Saturday at 4 p.m. at the center, 180 S. Warren St.
Admission is by a $10 donation and all ages are welcome. The event will include a baked potato bar and desserts, door prizes for everyone attending, a Christmas cake contest, homemade candy competition and musical entertainment.
Those interested in the cake contest can pick up official entry forms at the senior center office. First prize is a $20 Bi-Mart gift card. The candy competition will be a People's Choice award with the winner receiving a $10 Bi-Mart gift card. Bring enough candy for 45 people to sample.
For more information: 503-838-5678.
Christmas opera
slated in Dallas
Opera Organically will host a traditional Christmas concert in the sanctuary at St. Thomas Episcopal Church in Dallas on Saturday at 7 p.m.
The event is headed by Rebecca Fromherz, founder and head of Opera Organically, with Dobie Long as the pianist and appearances by Rosi Bergeron, Raeven Earhart, Donna Henderson, Emily Johnston, Hannah Lagler, Faith Osterlund, Brooke Perry and Rich Sutliff.
Admission is free and all are welcome. The church at 1486 SW Levens St. is handicap accessible.
For more information: 503-559-5205; email to operaorganically@gmail.com.
Square dance set
for Saturday night
Guthrie Park Community Center will host its next monthly country square dance Saturday from 7 to 10 p.m.
All ages are welcome for an evening of dancing to the music of Cash & Company. Caller is Alan Ede. Dances include old-time squares, big circles, longway sets and waltzes. No experience is necessary; all dances are taught.
Admission is $5 per person and children 12 and under are free. A family rate of $15 for four or more people from the same immediate family is available.
The center is located at 4320 Kings Valley Highway, south of Dallas.
For more information: Sally, 503-623-0809; guthriepark@gmail.com; www.guthriepark.org.
Grange will host
Sunday breakfast
Buell Grange will host its monthly Second Sunday Community Breakfast on Dec. 9 from 8 to 11 a.m.
Cost is $6 per person, and the menu is scheduled to include your choice of pancakes, sausage and eggs; hash browns, sausage and eggs; or French toast and sausage. Meals include juice and coffee.
The event is a fundraiser. Proceeds go toward the maintenance of the Buell Grange Hall, located at 5970 Mill Creek Road, just off Highway 22 northwest of Dallas.
For more information: 503-623-8462 or 503-843-4703.
Monmouth author
will sign new book
Friends of the Independence Public Library will host a book signing by Monmouth author Scott McArthur on Sunday beginning at 2 p.m.
The event takes place at the Independence Public Library, 175 Monmouth St.
McArthur's new book is titled "The Enemy Never Came -- The Civil War in the Pacific Northwest." He will be on hand to share stories and sign books. Refreshments will be served.
For more information: Betty Plude, 503-838-4039; Independence Public Library, 503-838-1811.
Holiday concert
planned Sunday
A concert dedicated to the holiday season featuring the Festival Chorale performers takes place Sunday at 7 p.m. at Trinity Lutheran Church in Dallas.
The group will perform favorite Christmas carols while decked out in traditional caroling costumes.
The event at 320 SE Fir Villa Road is open to the public.
For more information: 503-623-2233.
Women's military
group set to meet
Salem Women's Military League, whose membership area includes Polk County, will hold a no-host luncheon Tuesday at Illahe Country Club in Salem.
Social hour begins at 11 a.m. and the luncheon is at noon.
The group is seeking new members. Wives, widows, mothers, daughters or sisters of commissioned and warrant officers of all branches of the United States military, or any woman commissioned in her own right, are eligible for membership.
The Corban University Choir will perform choral music during the meeting.
For more information regarding luncheon reservations or membership: Alice McDonald, 503-623-1008; Anne Rose, 503-585-5810.
'Share the Warmth'
donations sought
Windermere Real Estate offices in Dallas and Monmouth are among those participating in the company's annual "Share the Warmth" donation drive now through Dec. 19.
Donations of coats and blankets for children and adults will be accepted at the Windermere Western View Properties offices at 484 NE Bovard Ave., Dallas, and 297 N. Pacific Highway, Monmouth, from 9 a.m. to 5 p.m. Monday through Saturday.
In addition, Monmouth Fitness Club, 165 E. Main St., is accepting "Share the Warmth" donations.
Donated items will be distributed to those in need by the Ella Curran Food Bank.
For more information: 503-623-2333 (Dallas) or 503-838-1141 (Monmouth).