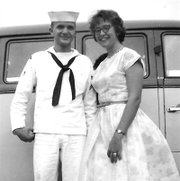 Loomis -- 50th
Larry and Mary Lou Loomis of Independence will celebrate their 50th wedding anniversary on Saturday, Dec. 15, with an open house at Dallas Alliance Church.
The gathering, which runs from 4 to 7 p.m., will feature a light dinner and cake and ice cream. Friends of the couple are welcome to attend.
Larry Lee Loomis and Mary Lou Huntington were married on Dec. 17, 1962, in Erie, Pa. Reo Brinkman performed the ceremony.
The couple has lived in Polk County for 14 years, having previously resided in Pennsylvania, Cuba and California.
Larry is retired from the United States Navy. Larry and Mary Lou own and operate a ranch south of Independence.
The couple is involved in Lou's Emu Ranchette, Salem Fast Pitch Softball Association and are members of Dallas Alliance Church.
Their family includes LouAnne (Scott) Wagner of Dallas and Larry Loomis Jr. of Riverton, Wyo. The couple has two grandchildren.
More like this story