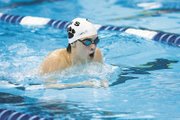 SALEM -- The Central quartet of Rahevin Potter-Clark, Matt Stanger, Matthew Grandquist and Nathan Glade are beginning to make a name for themselves in the swimming pool.
The four combined for two victories in both the 200-yard medley and 200 freestyle relays in Thursday's dual meet with Sprague at Salem's Kroc Center.
"The relays are looking great, but they still have a lot of room to improve," Central first-year coach Shawn Martin said of the relays, which swam times of 1:53.70 (200 medley) and 1:41.35 (200 free).
Potter-Clark (50 freestyle), Stanger (100 backstroke) and Glade (100 breaststroke) added individual wins for the Panthers, who were edged by Sprague in the team scoring, 96-76.
Nabbing second-place finishes for the boys side were Stanger (200 free), Grandquist (200 individual medley), Potter-Clark (100 free), Glade (500 free) and the 400 freestyle relay team of Will Gapasin, Alex Mack, Joe Leon and J.D. Protiva.
For the girls, newcomer Mandi Desmarteau had a strong meet, placing second (2:48.45) in the 200 freestyle and helping the 400 freestyle relay team of Sabrina Cedillo, Catie Miller and Brittany Bettles to a second-place finish (5:28.32).
Photo by Pete Strong
Central's Mandi Desmarteau placed second in the 200 freestyle in Thursday's meet against Sprague.
"Mandi's swims were fantastic and she was a huge surprise -- she had a breakout meet, which has since propelled her in practice," Martin said.
Also placing second for Central's girls -- which fell to Sprague, 119-46 in the team standings -- were Liz Olsen (100 breaststroke) and the 200 freestyle relay team of Hanna Brown, Sara Spreadbury, Olsen and Franki Cable.
DALLAS BOYS TOP SILVERTON, GIRLS EDGED BY FOXES:
Behind strong swims from Joey Orton, Jesse Genualdi and Kalon Schmidt, the Dallas boys swimming team defeated Silverton in its Mid-Willamette Conference opener Dec. 4, 92-68. Orton won two individual events -- the 50- and 100-yard freestyle races -- and joined Genualdi, Schmidt and Michael Osborn as part of the champion 200 medley and 400 freestyle relays.
Schmidt took top honors in the 100 breaststroke and placed second in the 200 individual medley, while Genualdi finished first in the 100 butterfly and was second in the 100 backstroke.
Also recording a first-place finish was the 200 freestyle relay team of Erik Olsen, Federico Fratus, Nils Zimmerman and Osborn.
The Dallas girls were edged by Silverton, 89-81, despite eight first-place finishes in the meet.
Touching the wall first in their events were Elizabeth Dressel (200 individual medley), Katie Campbell (50 freestyle and 100 backstroke), Deaven Vessell (100 butterfly and 100 breaststroke), Allura Eldridge (100 freestyle), the 200 medley relay team of Dressel, Vessell, Melissa Biery and Campbell and the 400 freestyle relay of Eldridge, Vessell, Dressel and Campbell.
NEXT MEETS
Central at Newport Invitational
When:
Friday, 3 p.m.
Dallas vs. McKay, North Salem
When:
Thursday, 4:30 p.m..
Where:
Kroc Center, Salem.
Dallas at West Albany
When:
Tuesday, 4 p.m.