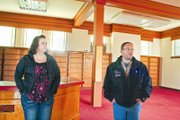 DALLAS -- At 100 years old, Dallas' Carnegie Building is showing its age. A budding proposal from the Dallas Area Chamber of Commerce & Visitors Center may someday put some life back into it.
"The Carnegie Building ... I've always had my eye on," said Chelsea Pope, the chamber's executive director. "It's such a rare building to have and it's still such a beautiful building."
Built on the corner of Church and Court streets in 1912 as the city of Dallas' original library, the structure has been vacant for more than a year. Heating system issues forced the most recent tenant, youth sports organization Kids, Inc. of Dallas, to move out last fall. The building is owned by the city, which is considering its options.
Pope's vision is to make the building the new chamber and visitors center -- and much more.
Pope has considered turning the facility into a "nonprofit hub," offering space to local organizations. She envisions a Dallas history display, having wine tastings, hosting events on the lawn and even having some aspects of Polk County Bounty Market continue year-round indoors.
"There is so much potential," Pope said.
The chamber and visitors center made its plan formal last month with a letter of interest to the city.
"I think there is so much more heart and historic value in that building that got forgotten about," Pope said.
But she also understands the need for the city to consider its finances when evaluating options.
"My big question for the city is costs," she said. "We don't know what operating costs are and what things need to be done before it is ready to move in again."
The city has been cleaning and assessing the building during the last several months. The biggest improvement on the list is replacing the heating and cooling system, but more needs to be done. A quick walk through the building reveals that structural repair is needed upstairs, as well as cleaning, restoring or replacing many of its features.
"It definitely has its bumps and bruises and it hasn't been taken care of in the best way, but it is certainly not lost," Pope said.
Jason Locke, Dallas' community development director, said the building is in better shape than it was six months ago, but that hasn't made up for years of neglect.
"The building was not taken care of," Locke said. "It's a shame."
Pope would like to help change that, but negotiations will have to wait until Dallas' new city manager settles in after the first of the year.
"I had hoped we would have been far enough along in conversations that we could have had a 100-year celebration at the Carnegie Building," Pope said. "But there is nothing wrong with throwing a 101st birthday party."