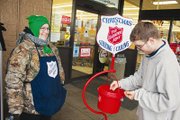 POLK COUNTY -- DeAnna Samples rang her bell in timed intervals on a damp and chilly morning last week, every utterance of "Merry Christmas" accompanied by a small cloud of fog.
"You can't be out here without layers," said Samples, clad in an insulated camouflage jacket, boots, fingerless gloves and a green stocking cap bearing the grin of Dr. Seuss' "the Grinch."
Business at the Salvation Army red kettle in front of Roth's Fresh Market in Independence had been slow up to this point. But it's early yet, she said.
"Sometimes you can stand here for half an hour and nobody will put anything in," Samples said. "And then ... ."
As if on cue, a man walks out of the store and drops a few dollars in the pot.
"Thank you!" Samples called out after him. "You have a great day, sir!"
It wouldn't be Christmas without the familiar "ding-ding-ding" of the Salvation Army's Red Kettle Campaign, which has 44 kettles spread throughout Polk and Marion counties - with seven in Polk.
Salvation Army kettle
As of Monday, the organization had collected $121,874, said Julie Matovich, Salem Salvation Army spokeswoman.
That money will go toward area shelters, food pantries and emergency assistance. Matovich said she doesn't believe the economy hasn't taken as big a toll on collections as most might think.
"The campaign started in 1891 and there's just always something about people taking that spare change they have in their pocket," she said.
It has been tougher finding volunteers this year, however, said Jared Arnold, a Salvation Army lieutenant.
"I can't say how much we're up or down, but it has been hard," Arnold said. "But we've been trying to get volunteers who live in the areas they're working in."
At kettle sites in West Salem, Dallas, Independence and Monmouth, it's a mix of newbies and regulars, temporary employees -- identifiable by their blue aprons - and volunteers in red.
Larry Rosen of Dallas donned a red apron at the Walmart kettle for a one-hour shift. He's rung the bell for Salvation Army through his church, Dallas First Christian, for a decade.
"I enjoy meeting people and knowing that I can help them by collecting some money," Rosen said.
Seated in front of the store, the 66-year-old shook a pair of sleigh bells like tambourines - the ring isn't quite as piercing as a normal bell, he said.
Photo by Pete Strong
Annika Darr, donates to volunteer Larry Rosen's Salvation Army kettle outside Walmart in Dallas Friday.
He hums "Jingle Bells" to keep himself occupied, letting out a "Ho, ho, ho!" whenever kids walk by.
Even with the recession, Rosen said he, too, doesn't believe goodwill has taken a downturn.
"I had one customer a few years ago ... who didn't think I looked warm enough," he said. "So she went back into the store and bought me a stocking cap."
Rosen said after struggling last year, First Christian has enough bell-ringer volunteers to rotate people every hour during the two days a week they man kettles.
That's good news. The more volunteers there are, the greater the amount of kettle funds can go toward services, Matovich said, noting that Polk County's sites have netted $11,750 to date.
Jessica Pomeroy manned the kettle at Roth's in Independence for five hours as a substitute one rainy evening earlier this month. She was a first-time employee.
That the kettle sits far back beneath the eaves and directly out of the elements "is a plus," Pomeroy said.
"But I like the rain, I like the snow, I like the sun," she said. "I would be out here no matter what."
Samples worked as a bell ringer for the first time last year. Samples said she's never had to access Salvation Army services, but added that the gig "is helping me provide a Christmas for my children."
Each spot has its own routine, Samples, a Dallas resident, said. In Independence, there's usually a crush of kids during lunchtime from Central High -- "they put money in the kettle, too." Most shoppers materialize around 5 p.m., she continued.
She said she's tried greeting Latino shoppers in Spanish. With others, she'll take the time to explain where the kettle dollars go.
"Some don't realize the money they give stays in Marion and Polk counties, they think it goes someplace else," she said.
She also reassures those who actually apologize for having nothing but a few pennies to give.
"I've had people come up and say `This is all I have," Samples said. "It doesn't matter how much you have in your pocket, every penny adds up."
You Can Help
The Salvation Army Red Kettle Campaign will continue through Christmas Eve. In Polk County, kettles are located at:
* Walmart -- 321 N. Kings Valley Highway,
Dallas.
* Safeway -- 138 W. Ellendale Ave., Dallas.
* Roth's Fresh Market -- 1401 Monmouth St., Independence.
* Bi-Mart -- 444 S. Pacific Ave. (99W), Monmouth.