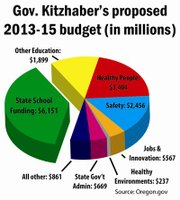 POLK COUNTY -- School districts in Oregon won't adopt their 2013-14 budgets for about six more months, but Gov. John Kitzhaber's 2013-15 budget proposal has provided fuel for early funding discussions.
Kitzhaber released his proposal in late November, a first step in a long process of discussions and debate before the Legislature approves a final budget.
Local school districts were still awaiting Oregon Department of Education funding projections as of Monday based on the governor's proposed $6.15 billion for K-12 schools. But that hasn't stopped preliminary number crunching -- and so far the proposal is getting mixed reviews.
"This is a process that is just beginning," said Central School District Superintendent Buzz Brazeau. "I don't feel overwhelmed or disappointed at this point."
Brazeau said the Central business office is putting together its cost estimates ahead of receiving ODE's projections.
"I'm going to assume they will be different," Brazeau said. "And I'm a realistic person, so I'm going to assume it's not going to be a positive difference."
Dallas School District Superintendent Christy Perry said the proposal is a good starting point, even if educators wished for more.
"I think we are heading in the right direction, if we can get the funding," she said.
With the governor's proposal, there is more uncertainty than in previous budgets.
In addition to the $6.15 billion, Kitzhaber's proposal offers a possibility of cost savings -- but only if Public Employees Retirement System (PERS) reforms are approved.
Proposed reforms call for capping the cost-of-living increase on PERS benefits, as well as ending tax benefits for out-of-state PERS retirees. Those proposals would save $865 million in the biennium, $253 million for school districts. Those changes require legislative approval and may be subject to legal challenges.
Local officials aren't ready to say they feel good about the reform chances, but they aren't dismissing them either.
"The thing that we worry about is litigation," said Perrydale Superintendent Robin Stoutt. "If we could be assured the reforms would really happen, that would be helpful. ... It sounds like an idea that might work, but it could take years to resolve that."
Perry may be the most optimistic, saying she thinks Kitzhaber is pushing for changes because he can make a strong case for them.
"I believe the governor's stance is to put forward reforms he believes are most likely to be upheld in court," she said.
Perry said she appreciates the risk that Kitzhaber is taking with proposing changes to PERS.
"He's taken a bold and strong stance and is pushing forward in a way that others haven't," she said.
However, there are concerns. The first is if PERS reforms fail, local school districts will likely face more cuts instead of maintaining current programs.
"The $6.15 billion really isn't enough," Stoutt said. "We don't have the details yet, but we know it's not enough."
For Falls City, not even successful reforms would offer enough to prevent cuts.
"Even at the $6.4 billion mark, Falls City would not cover (estimated costs) with our continuing decline in enrollment," said Falls City School District Superintendent Pat Evenson-Brady.
While the verdict is out on PERS reforms, one part of Kitzhaber's proposal is drawing universal concern. He is calling for $120 million in education service district funding redirected for teacher development.
Professional development is a priority, Stoutt said, but under this proposal it may be at the expense of other needed services, such as special education and technology services.
Perry said diverting the funds will ultimately cost Dallas $150,000 out of its service plan with Willamette Education Service District, mostly in special education.
"We will have to pick that up somewhere else," Perry said at a recent Dallas School Board meeting. "We also want to watch that piece of the legislation. Although it will look good on paper, it will impact our general fund."