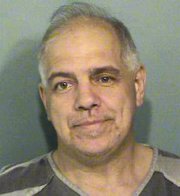 DALLAS -- An Independence man will spend more than eight years in prison for serious sex crimes against a young family member.
It's less, however, than Michael Compa, 52, could have potentially received had he been convicted in a jury trial of every allegation he faced.
As part of a plea agreement with the Polk County District Attorney's Office, Compa admitted to charges of sex abuse in the first degree, unlawful sexual penetration in the first degree and unlawful delivery of a controlled substance to a minor.
Besides 100 months behind bars, Compa received five years of post-prison supervision and can have no contact with minors when he's free.
Compa had been bound for trial, facing 16 counts of sex abuse, rape and other crimes for regularly abusing a family member -- now 16 -- for four years.
He was arrested on a secret indictment in July. The youth first reported the incidents to authorities in late 2010. District Attorney Stan Butterfield said the girl recanted her story because of pressure from relatives.
The youth was relocated out of state, then reinterviewed in her new community in January. She said she changed her story the first time to avoid hurting family members. She also said that Compa had threatened her.
"There were multiple charges, but the risk the state takes when a victim has recanted ... even if they appear to be credible, you never know how the defense is going to impeach that victim's testimony," Butterfield said.
"It was deemed to be more prudent to make sure there was a conviction rather than risk losing any opportunity for Compa to serve a sentence," he added.
Butterfield said the state planned to seek a longer prison term and that "20 to 25 years would have been a reasonable offer."
Chris Lillegard, Compa's attorney, said his client was trying to take responsibility for his actions by admitting guilt.
The victim's mother was present during the sentencing on Thursday and said she was glad that Compa pleaded guilty because it spared her family from the agony of a trial.
She added, however, that she had never heard some of the graphic descriptions of Compa's crimes until that day in court.
"I've never been so horrified," she said, adding: "I want him to be punished appropriately and I don't think eight years is enough.
"I don't know if there's anything you can do to fix a person like that. But you can try."
Asked if he had anything to say, Compa responded: "No. I'm just sorry that my family has to go through all this."