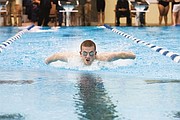 SALEM -- When Jesse Genualdi entered the pool with new Blue Dolphins Swim Team head coach Mark Maxwell running practice for the first time, the sophomore wasn't sure what to expect.
After it was over, Genualdi quickly figured out his old methods of training were a thing of the past.
"The first practice, I thought I was going to die," the sophomore said with a laugh as Dallas High's double-dual with North Salem and McKay winded down Thursday at the Kroc Center.
"I literally told him, `Are you trying to kill us?' It was crazy," added Genualdi, who attends Mid-Valley Christian Academy in Monmouth but lives in Dallas, allowing him to compete for the Dragons under OSAA rules.
But with that hard work, at least for Genualdi and fellow Dallas swimmer Kalon Schmidt, who also swims for BDST, came some astounding results.
"I'm crazy more in shape -- just over the span of two or three months, I'm dropping like 10, 15 seconds off all my stuff," Genualdi said.
Maxwell chuckled when he heard Genualdi's take on his first day.
"I don't know if they fully understood what work was," he said. "We probably upped the distance by 40 percent and probably upped the intensity by 40 to 50 percent.
Photo by Nicole Watkins
Joey Orton returns as one of Dallas' strongest swimmers after qualifying for the Class 5A state meet a year ago in the 50 and 100 freestyles
"It kind of gave them an idea of what more is out there."
The work by Genualdi and Schmidt has paid off so far for the Dallas boys, who have won their first three dual meets this season -- beating Silverton Dec. 4 and then North Salem, 84-72, and McKay, 77-72, in Thursday's meet.
Genualdi won two individual events: the 200-yard individual medley (2 minutes, 28.81 seconds) and the 100 butterfly (1:06.04). He was also part of two winning Dallas relays: the 200 freestyle (1:43.43) and the 400 freestyle (3:56.57).
Both relay teams feature the Dragons' top four swimmers in Genualdi, Schmidt, Michael Osborn and Joey Orton, the lone state qualifier back from last season. The four, who were a wave of youth last season, return with a year of experience under their belts.
They also have plenty of room to grow: Schmidt, Osborn and Orton are all juniors.
One main goal? Breaking the school record in the 200 freestyle relay.
"We have a good shot at it, plus we're all juniors and one sophomore, so we have a shot next year, too," said Osborn, who took first in the 50 freestyle (26.07) Thursday.
Osborn, whose main sport is cross-country, said he's at the same level "as I was when I left last year" in the pool.
His goals are simple: he wants to improve and contribute to the Dragons' success.
"I'm kind of a laid-back guy, but I'm happy for the season and I'm happy for the team as long as we're doing well -- that's good enough for me," he said. "(Swimming is) fun, I enjoy it, and I hope to constantly improve."
Orton, who swims year-round with the club team Northwest Aquatics out of Albany, won the 100 freestyle (53.53) Thursday, one of two events (50 free the other) that he qualified for at the Class 5A state meet last season.
Schmidt took firsts in both the 100 breaststroke (1:13.26), his best event, along with the 500 freestyle (5:53.21).
As all four boys continue to improve, eyes, as always, are set on performing at the end of the season at the Mid-Willamette Conference district meet.
"I just want to go all out in every single race and try to get my best times in all my races," Genualdi said. "I'm not going to leave anything outside the pool -- I'm going to put it all in the pool."