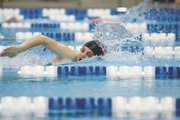 SALEM -- Dallas swimming coach Jeff Bemrose is getting pretty good at the free agent game.
After encouraging a few talented swimmers to come out for the Dallas swimming squad the last couple seasons -- Jerusha Dressel, Kalon Schmidt (both home-schooled) and Jesse Genualdi (Mid-Valley Christian Academy), to name a few -- the Dragons have several new faces already making an impact this year.
The most notable?
Katie Campbell, Allura Elderige and Elizabeth Dressel, Jerusha's younger sister.
All three helped the Dragons' winning cause in two victories Thursday over North Salem (100-62) and McKay (112-23).
Campbell, a sophomore, won the 100-yard backstroke (1 minute, 18.17 seconds), unofficially placed second in the 50 freestyle and was on winning relay teams in the 200 medley (2:13.92) and 400 freestyle (4:32.90).
Bemrose said that he believed there was an error in the final results in the girls 50 freestyle race, which listed Elderige second and Campbell third. He didn't contest the results, but had the duo placing first and second in his records.
Campbell, who does attend DHS, said she spent last season swimming club for the Corvallis Aquatic Team. After taking the summer off, she joined Northwest Aquatics out of Albany and decided to suit up for the Dragons.
She's doing double-duty this season -- practicing one or two times a week for DHS while spending the rest of her time in the pool in Albany.
"The (Dallas) coaches were talking to me and I thought it would be a good idea to support my high school team," Campbell said of her decision to join the Dragons.
Photo by Nicole Watkins
Dallas' Katie Campbell swims in the 50 freestyle Thursday at the Kroc Center.
"Plus, I thought it would look good on my transcript (for college)."
She's happy with her decision so far, as is Elderige, who said she didn't swim last year because she "was too lazy."
A sophomore at DHS, Elderige said she swam from about age 5 to seventh grade, then just stopped. After all that time, she was a bit nervous on how she would perform.
Her first-place finishes in both the 100 freestyle (1:08.78) and 50 freestyle (unofficially) -- plus her contribution on both first-place 200 and 400 freestyle relay teams -- has put that worry to rest.
"I thought I was going to do really bad because I hadn't done it in so long, but I'm doing decent," Elderige said.
Dressel, a freshman, joins older sisters Charis and Jerusha -- a 2012 state qualifier who is set to return this week from a three-month exchange program in France -- on the Dallas squad.
Elizabeth has done a strong job in Jerusha's absence, placing first in the 200 individual medley (2:49.91) and second in the 100 freestyle (1:08.78). She was also a member of the 200 and 400 freestyle relay teams.
"I don't think that would be possible," Elizabeth said with a laugh in response to if she was filling Jerusha's shoes. "But I'm doing as well as I can."
Bemrose said he thinks a big reason for the surge in members for the girls team was its performance last season, which saw several swimmers qualify for the Class 5A swimming state championships.
"I think that was huge," he said.
One of those state qualifiers was Deaven Vessell, who placed first in every event she entered Thursday, including the 100 butterfly (1:12.39) and 100 breaststroke (1:17.95). She also swam on the victorious 200 medley and 400 freestyle relays teams.