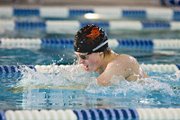 DALLAS -- Basketball players who spend a lot of time honing their skills in the gym are often referred to as "gym rats."
With the amount of time that Kalon Schmidt and Jesse Genualdi -- swimmers for both the Blue Dolphin Swim Team and the Dallas High boys squad -- spend in the water, "pool rat" seems rather fitting.
"I'm swimming about five days a week," said Genualdi, a freshman who attends Mid-Valley Christian Academy in Monmouth, but lives in Dallas, allowing him to swim for the Dragons.
Jesse Genualdi
The same time is spent by Schmidt, a sophomore who is home-schooled but joined the Dallas team midway though last season.
That time spent in the water has certainly paid off in terms of success for Dallas, as Schmidt and Genualdi have become two of the Dragons' brightest young swimmers -- along with the team's top swimmer from a year ago, sophomore Joey Orton.
"He's been really great," Dallas coach Jeff Bemrose said of Schmidt. "Last year he was swimming with (the Blue Dolphins) and he was eligible to swim with us, but he didn't know it, so we made that possible for him."
Same with Genualdi, who Bemrose spotted as another potential standout for his boys squad.
"Coach (Bemrose) came to me one day when I was on the Blue Dolphins, and he was like, `Hey, I want you on my team,'" Genualdi recalled.
"I decided that maybe it would be a little bit of fun to get on the high school team and compete a little bit. It means quite a lot to me."
Genualdi's best event is the 100-yard butterfly, an event in which he finished second in last week's Dallas-Central Invitational. His time Friday was 1:06.70 - but he's aiming to get a "52 or 53 (second)" time by next year.
Schmidt, who placed first in the 200 individual medley (2:25.92), said his favorite event is the breaststroke, but he has plenty of room to improve.
"There's always more practicing to do," he said, while noting swimming for Dallas has been a good fit.
"The kids on the team are really good to swim against and it's nice to swim against people who are faster than me."
The addition of the duo has only aided the Dallas boys squad, which struggled to compete in meets a year ago, mostly due to low numbers.
Friday, the Dragons finished a respectable third (206 points) in the six-team meet, just behind Corvallis (302 points) and first-place Central (321 points).
DRESSEL LEADS DALLAS GIRLS:
The Dragons girls team finished third in Friday's meet with 216.5 points. Central was second (260 points) and Corvallis took first (340.5). Dallas' Jerusha Dressel won two individual events - the 200 individual medley (2:25.08) and the 100 freestyle (56.68), while also swimming a leg of the first-place 200 medley relay squad (2:12.42).
BERRY LEADS CENTRAL BOYS:
Central's Robert Berry was a big reason for the Panthers' first-place finish, as the senior captured both the 100 freestyle (53.31) and the 100 breaststroke (1:05.15) events. He also swam on the first-place 200 medley and 200 freestyle relay squads. Also snagging first-place individual finishes were Andrew Hasbrook (50 freestyle) and Nathan Glade (500 freestyle).