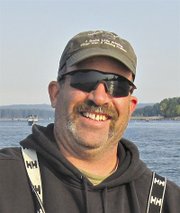 DALLAS -- To Senior Officer Lee Ingram, law enforcement was "a calling."
Those who worked with him described Ingram as a natural leader who brought a needed measure of calm and clarity to the job.
"I was honored to serve with him," said Dallas Police Officer Jeff Huey. "He was a pleasure to be around. He was just born to lead."
Dallas Lt. Rod Dunham, who had known Ingram since they were reserves together in Monmouth, said nothing could rattle him in the line of duty.
"If he thought there was a problem, he would make a decision ... and a good one," Dunham said. "He knew what he was doing. He didn't panic. Things didn't upset him."
The Dallas community was shocked to learn last week that Ingram, 49, had died unexpectedly at his home, apparently of natural causes.
A 25-year veteran, he was Dallas Police Department's longest serving officer and the best example of what an officer should be, according to colleagues.
Monmouth Police Chief Darrell Tallan even credited Ingram with inspiring him to make law enforcement a career.
The pair met in 1982 while both were attending Western Oregon University, then Western Oregon State College. Tallan was an incoming freshman studying secondary education and Ingram was studying law enforcement.
When Tallan was at a crossroads in his life -- wondering if he should continue the path toward a career in education -- he talked to Ingram. Those conversations changed the direction of his chosen career.
"I'm very glad that I made the decision to go into law enforcement," Tallan said. "And I do tell people that I give credit to Lee for heading me in that direction."
While they never served in the same department, they were able to stay friends in the close-knit Polk County law enforcement community. Tallan said he admired Ingram's commitment to the job.
"Law enforcement is a calling," Tallan said. "He answered that call and he worked really hard to keep the citizens of Dallas safe."
Friends said he also knew how to step away from being an officer. Ingram was a devoted family man who could talk for hours about his son's sports teams and was a highly skilled fisherman and outdoorsman.
Colleagues have just as many fishing stories with Ingram as they do on-the-job memories.
"It was nice to separate from the job," said Dallas Officer Marty Collingham. "When we were off duty, we weren't two cops anymore."
Dallas Officer John Wallace recalled a five-week fishing trip in Alaska with Ingram that almost ended before it began.
"We almost didn't make it there," Wallace said. "They lost Lee's luggage. Basically, his gear was gone. No gear, no fishing. So we spent the night in the airport while they found his bags. That was one of the hardest floors I think I ever slept on."
The uncomfortable night's sleep was worth it, though.
"It was an excellent trip," Wallace said. "It was the trip of a lifetime. You just don't get to do that, very often anyway."
Ingram's friends say they will remember him for both his strong sense of service and the times they were able to share with him outside of work.
"We will have good memories of Lee," Huey said.
At the same time they say it's hard to measure the loss -- for themselves and the community.
"I think the citizens of Dallas are really going to miss Lee ... and those of us in law enforcement, in the profession, are really going to miss him as well," Tallan said.
A memorial service for Ingram will be held Saturday at 1 p.m. at Grace Community Church, 598 E. Ellendale Ave., Dallas.
(Full Obituary on Page 6A)