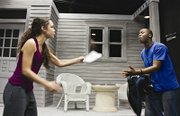 MONMOUTH -- Sara King, an aspiring director, admits that "Proof" isn't a play that would have sprung to mind if she was offered free reign to select and stage a live production.
"The first time I heard about it, I just knew it as the play about math," said King, a graduate of Western Oregon University's theater program.
After being asked to direct an upcoming version of playwright David Auburn's work at WOU, King pored through the script in a couple of hours and was intrigued by the story of intellectual yearning and mental instability.
"If anything, it's about creativity that comes with math," King said. "It's math in a vacuum.
"I think a lot of people who come from theater can relate," she added with a laugh. "Sometimes that drive for creative work drives you crazy."
A four-night run of "Proof" begins Wednesday inside Rice Auditorium's "Black Box." The play differs from Western's seasonal production in scale -- it's a one-set, four-character play with seating for 47.
It's also entirely student produced, including set and costumes; faculty takes submitted proposals for one-act, shorts and full-length plays by students during the year, vets them, and allows small shows for students who qualify.
King, who's been an assistant director on several WOU plays, lives in Monmouth but is planning a move to Seattle within the next few months to pursue a theater career. When "Proof's" previous director left the project in early January, faculty called her and offered King what's essentially her first professional directing job.
"She is getting paid," WOU theater professor David Janoviak said. "We decided to pay her a small stipend, the same as we would for a guest artist."
King said the Black Box is a blessing in that it is an intimate set that's ideal for character-driven plays. It's also a challenge.
Photo by Pete Strong
Catherine's sister Claire, played by Kaitlin Bauld, tries to reason with sister after their father's death.
"Simple things like blocking, you look at it differently," she said. "On the main stage, your actors are so far away from the audience."
"Proof," first produced in 2000, centers on Catherine, the daughter of a deceased and esteemed mathematician, Robert, who battled a prolonged mental illness.
Catherine, a genius who cared for her father, appears to possess the same symptoms. A former student of Robert's finds a math proof in his teacher's office of uncertain authorship; Catherine attempts to prove its authenticity and hold on to her sanity.
Tia Laulusa, a WOU sophomore, portrays Catherine. The role called for playing Catherine as awkward, introverted and volatile.
"She has emotions that are right at the surface," Laulusa said. "She's kind of a mess."
Laulusa said she knows people that stress about acting within the Black Box -- "they're freaked out that the audience is 2 feet away from them.
"But it's really nice, you can be real and in the moment," she said.
On Stage
What:
"Proof," presented by the Western Oregon University department of theater and dance.
When:
Wednesday through Saturday, nightly. Start time is 7:30 p.m. There will also be a matinee performance at 2 p.m. on Saturday.
Where:
The Black Box, Room 113 in Rice Auditorium, Western Oregon University, 345 N. Monmouth Ave., Monmouth.
Admission:
$7 for students, $10 for seniors and $12 for general admission. Tickets can be reserved at or purchased at the Rice Auditorium box office.
For more information:
503-838-8462.