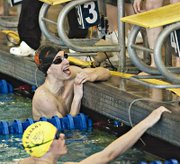 OSAA Class 5A State Swimming Championships
When:
Friday, 6:30 p.m.; Saturday, 6:30 p.m.
Where:
Mt. Hood Community College Aquatic Center, Gresham.
Admission:
$8 adults, $5 students.
Dallas qualifiers:
BOYS --
Joey Orton, soph., 50- and 100-yard freestyle.
GIRLS --
Jerusha Dressel, jr., 200 individual medley and 100 freestyle; Deaven Vessell, jr., 100 breaststroke; 200 medley relay team (Dressel; Vessell; Melissa Biery, jr.; Hannah Fawcett, soph.; Britten Essex, soph.; Anna Finke, sr.; Selena Hyatt, fr.; Krysta Catto, fr.)
CORVALLIS -- Fresh off her second-place performance in Saturday's 200-yard individual medley at the Mid-Willamette Conference District Swimming Championships, Dallas' Jerusha Dressel wasn't even concerned with her own race.
"Did you see our medley relay? We dropped two seconds off our prelim time!" the junior said in excitement of the 200 medley squad that placed third nearly an hour beforehand at the Osborn Aquatic Center in Corvallis.
For Dallas, it was a team-first kind of day, with multiple highlights:
*
The Dragons posted 21 personal records and broke four more school records.
*
Dressel and Deaven Vessell helped lead the girls team to its best finish in the team standings (fourth) in quite some time.
*
Five swimmers -- along with four alternates -- will make the trek to this weekend's Class 5A State Championships at Mt. Hood Community College. Only one swimmer -- Vessell -- qualified for state a year ago.
Photo by Nicole Watkins
Dallas' Jerusha Dressel competes in the 200-yard individual medley in Saturday's Mid-Willamette Conference Swimming Championships. She finished second in the event.
"Yeah, we're tickled. This is pretty great for this program," second-year head coach Jeff Bemrose said after learning of his qualifiers on Sunday.
Those include, on the girls side: The 200 medley relay team of Dressel, Vessell, Melissa Biery and Hannah Fawcett (third at districts, school-record 2:04.21); Dressel, in both the 200 individual medley (second, school-record 2:18.10) and the 100 freestyle (third, school-record 55.86); and Vessell, who snagged a spot in the 100 breaststroke with her fourth-place finish and school-record time of 1:13.22.
On the boys side, sophomore Joey Orton qualified in both the 50 (third, 23.74) and the 100 freestyle (second, 51.75).
The Dallas girls scored 202 points in the team standings to take fourth, behind third-place Corvallis (227). Crescent Valley won the meet with 503 points and West Albany (475) was second.
The Dallas boys team finished sixth with 187 points. West Albany was first with 490 points, Lebanon (307) second and Corvallis (268) third.
The girls medley relay team was stoked, to say the least.
"We've been working so hard, and even though we got third it was just so nice to finally take that time off," Biery said. "I'm a junior, and just finally achieving something, because we work so hard, and to have Jerusha on the team and just to have all of us do so well - it was just awesome to have that pay off."
After touching the wall for his second-place finish in the 100 freestyle, Orton looked up at the time board and let out a wide-eyed grin.
"I really was just expecting third, so I was really excited to get that," Orton said of the race, which was a personal record.
"Practicing with my club (Northwest Aquatics in Salem) has been the big breaker for me."
Sophomore Kalon Schmidt placed in the top 10 in both of his events, the 200 individual medley (fourth, 2:21.65) and the 100 breaststroke (sixth, 1:12.49).
"I did a lot better than I did last year," Schmidt said. "I didn't even make the finals last year."
Also placing in the top 10 in their respective events were Jesse Genualdi, who was sixth in the boys 100 butterfly, and Vessell, who placed sixth in the girls 100 butterfly.