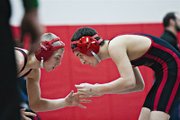 Special District 4 Wrestling Championships
When:
Friday, 11 a.m.; Saturday, 11 a.m.
Where:
Sweet Home High School.
Teams:
Central, Cascade, Cottage Grove, Elmira, Junction City, Newport, Philomath, Stayton, Sweet Home and Taft.
What's at stake:
The top four qualifiers in each weight class qualify for the Class 4A state championship tournament, Feb. 24-25 at Veterans Memorial Coliseum in Portland.
Panthers to watc
h
113 pounds --
Steven Worthington (fr.); Sam Armstrong (fr.)
126 pounds --
Tylor Armstrong (jr.)
195 pounds --
David Vidal (soph.)
INDEPENDENCE -- Central freshmen Sam Armstrong and Steven Worthington have been friends for a long time.
Both picked up wrestling in the sixth grade, and they're buddies during school.
Well, that's all until it's time to wrestle -- against each other.
"It's not really like a rivalry that much because we're pretty good friends, we know each other well. It's not that," Worthington said.
"But when we're out there, (the) friendship goes away till we're done."
That was evident Wednesday, when both Panthers -- they've wrestled at 113 pounds all year - drew the same bracket and wound up facing one another in Central's Round Robin Tournament.
Armstrong came out on top in that one with a slim 10-7 win, but it wasn't that long ago -- less than 24 hours, really -- that Worthington was the winner.
"He's in my weight class, so there's been a couple times in practice that we do challenge matches," Armstrong said. "And he has beaten me, and it does make me a little upset. I gave him a hug after (his win Wednesday), because I knew he was a little angry, and I was angry when he beat me -- which was (Feb. 7) -- but it was fun."
Central coach Van Holstad said that both have a shot to make a run in this weekend's upcoming Class 4A Special District 4 Championships at Sweet Home, but it's not going to be easy.
"It's a tough district," Holstad said. "Sweet Home (No. 4) and Cascade (No. 3) are ranked in the top four."
Other Panthers looking to make an impact include junior Tylor Armstrong (Sam's brother) at 126 pounds and sophomore David Vidal at 195.
Photo by Nicole Watkins
Central's David Vidal, top, works against his opponent in Wednesday's Round Robin Tournament.
Tylor Armstrong and Vidal are returning from some time away from the mat -- Armstrong from injury and Vidal from a skin infection -- but both hope to be ready to go come district time.
"It's kind of overwhelming, you know?" Vidal said shortly after picking up a win during Wednesday's tournament -- his first match in nearly three weeks. "I've only had two days of practice, and I've been out for three weeks. My conditioning isn't all the way up there, but getting mat time is better than nothing."
Vidal went 18-21 as a freshman at 189 pounds and was a match away from finishing fifth in a formidable district.
He's hoping he can recover quickly.
"Hopefully I can get some good matches at districts and work myself through there, and just wrestle the best that's going to get me through," he said.