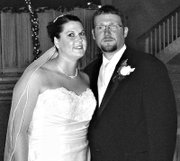 Lemmon-Eisele
Jennifer Lemmon of Salem and Matthew Eisele of Salem were married Nov. 19 at Green Villa Barn in Independence.
Jim Ferguson officiated the ceremony.
The bride is the daughter of Jay and Brenda Lemmon of Otis. The groom is the son of Dennis and Jeanne Eisele of West Linn.
Maid of honor was Brittany Baird. Bridesmaids were Jamie Sigman, Kristy Lemmon, Cheri Higgins, Sarah Ching, Mica Ward and Kirsten Ploger. Flower girls were Hanna and Holly Sigman.
Best man was Nate Eisele. Groomsmen were Jack Scrutton, Randy Snow, Randy Sigman and Jerry Hollingsworth. Ring bearer was Brandon Ching.
Jennifer is a 1997 graduate of Taft High School in Lincoln City. She graduated in 2001 from Western Oregon University in Monmouth with a Bachelor of Science in speech communication and received her Master of Arts in Teaching from Willamette University in Salem in 2007. She is a sixth-grade teacher at Talmadge Middle School in Independence.
Matthew, a 1995 graduate of West Linn High School, graduated in 2000 from Saint Martin's University in Lacey, Wash., with a Bachelor of Arts in business. He is employed as a purchasing agent at Platt Electric in Beaverton.
The newlyweds honeymooned in Maui, Hawaii. They make their home in Salem.
More like this story