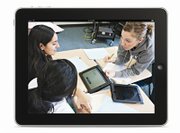 INDEPENDENCE -- Students in Jennifer Bruning's early afternoon algebra class at Central High on a recent day were able to work on their products of powers lessons alongside tutors.
And iPads featuring a mobile app with video demonstrations of rules and practice problems, all at the touch of the screen.
Sophomore Taylor Harris' review of the app was lukewarm -- "it was sort of helpful." The software from last week's visit was better, he noted.
That app, Algebra Touch, lets you drag numbers and symbols into place to solve an equation, Harris described. A wrong move, like trying to add a constant and a term with a variable, and the equation would shake.
"It just made everything seem so much less complicated," Harris said enthusiastically. "It felt like (class) went by a lot faster."
Preservice teachers from Western Oregon University have been visiting the high school since January to work on algebra with kids using apps as part of a grant project.
For the older students, the purpose is learning how children think about math. A side benefit is incorporating this new technology into the classroom, said Rachel Harrington, WOU associate professor and coordinator for the initiative.
"It's emerging," Harrington said. "We're still trying to figure out the most appropriate way to use apps, but it's an inevitable path we're all headed down."
By now, mobile apps -- software designed for smartphones, tablet computers and mobile devices -- are commonplace. Anybody with an iPhone has probably wiled away idle moments with a round or two of Angry Birds or Fruit Ninja.
And more apps are being developed for education. Need help with Spanish? SAT preparation? There's an app for that. There are instances in Oregon where K-12 schools and districts have adapted this technology for regular use. Canby School District deployed almost 1,000 iPads and iPod touches into its classrooms in September.
But in general, mobile apps in schools are the exception and not the rule. Central High has 10 iPads, but no real dedicated app-in-the-classroom initiative outside of the connection with WOU. The middle and elementary schools in Monmouth and Independence don't utilize apps in regular teaching.
Harrington said the upfront cost for investing in tablets is the major barrier for most and there's training to consider. Because technology changes so quickly, there's always the challenge of figuring out which device to commit to.
But attitudes are changing. Harrington is part of the Center for Algebraic Thinking, a federally-funded consortium of four Oregon universities devoted to improving education for preservice math teachers. CAT has also been developing a number of mobile math applications for middle and high school algebra students.
iPads aren't cheap, but the apps themselves are -- most can be had for free or a few dollars. And there's a level of interactivity and interest that students gravitate toward because students use these gadgets at home, Harrington said.
"Kids use technology all the time in their daily lives and some apps teach them in a way they're accustomed to learning in their outside life," she said.
Harrington has purchased 25 iPads for her class with funds from her project grant. Using the devices, her students have researched elements of her lectures as she's talking or bought assigned e-books while she's describing them.
"It's changed the way I teach," Harrington said.
Michael Jennings, a Central High math teacher whose class is involved in the WOU project, said apps in the classroom will be more common as they're tailored to an instructor's needs. But app-savvy students already seek out the software to aid with homework
"Since I really became aware of apps, the number of math apps has increased massively. Everyday there's a new one," he said. "It's very exciting."
Apps aren't a shortcut or even suitable for every child, Jennings said. Rather, they're part of the "big
bag of tricks of teachers."
"I see them as one more tool we can use and if it's something kids are excited about, that's a good thing," he said.