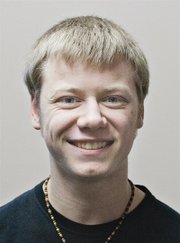 DALLAS -- Dallas High School senior Jackson Geiger has qualified for the Oregon Thespians State Festival scheduled in April.
Geiger qualified at the Oregon Thespians South Regional Acting Competition at McNary High School on Feb. 4. He performed two monologues in the category of solo acting, one from "African Company Presents Richard III" by playwright Carlyle Brown and the second from "The Imaginary Invalid" by French playwright Moliere and adapted by Oded Gross and Tracy Young.
This was the third time Geiger has participated in the regional competition and the first time he has advanced to the state festival, which will be held April 12-14 in Salem.
"I really wasn't expecting to go," Geiger said. "It was pretty exciting."
Jade Beattie, a junior, also was designated as a regional finalist for her performance in the category of "solo music." She won't be competing at state, but was recognized as a "performer of excellence."
--Jolene Guzman