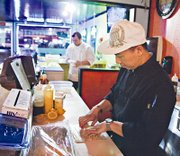 DALLAS -- Enjoying sushi in a restaurant no longer requires a drive out of town.
Tiga Sushi Bar and Japanese Restaurant opened Friday in downtown Dallas, adding variety to Dallas' dining options.
Owner Erwin Gunarsu Pieroni took over the former Capone's Pub & Grill Feb. 1 after discovering Dallas didn't have a sushi bar.
"I thought we would give it a try and it turned out to be good," Pieroni said.
He said Monday he was encouraged by the reception last weekend.
"Friday was really crowded on the opening day," he said. "(Customers) were really excited we are here, offering more food variety in Dallas."
Tiga offers 40 different types of sushi rolls -- both cooked and uncooked -- and entrees, such as chicken and beef teriyaki, tempera and udon noodles. Pieroni said the restaurant will soon be offering steak and daily specials.
Most sushi rolls cost between $10-$12, with entrees priced between $10-$20. Beer, and a selection of wine and sake is available by the bottle or glass.
All sushi rolls are made fresh at the bar, where customers can watch their orders prepared.
"We make the sushi fresh," Pieroni said. "Once you order, we make in front of you."
Pieroni previously was a sushi cook at Going Deep Sushi in Cave Junction. He and his uncle, Jack Handojo, who has 10 years
experience as a chef in sushi bars, will operate the Dallas restaurant.
For those who are a little leery of trying uncooked sushi, Tiga has cooked and fried options. Pieroni recommends a Yoko's roll, with cucumbers and Dungeness crab, for those new to sushi.
"You can't go wrong with that," he said. "It's all cooked and very tasty."
He noted that customers should not be intimidated by the variety of options on the menu as cooks will be ready to help people make selections suitable to their taste and sense of culinary adventure.
"Don't be afraid to try it," Pieroni said. "You will never know what we have unless you try it."
Want to try sushi?
What:
Tiga Sushi Bar and Japanese Restaurant.
Where:
957 Main St., Dallas.
Hours:
11 a.m. to 10 p.m. Monday-Saturday. Closed Sunday.
For more information:
503-751-1044.