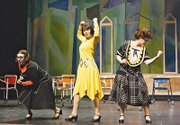 MONMOUTH -- Western Oregon University's theater and dance department has usually spaced out large-scale musicals on its season schedules every two years.
Because of the commitment and variables for such productions, it has to be that way, said Sharon Oberst, WOU dance professor.
"It's not just the director or a choreographer, it has to be supported by money, with artistic design," Oberst said. "Nobody puts one on themselves."
That said, she's been pining to stage the Tony Award-winning "Thoroughly Modern Millie" after catching it in Portland eight years ago.
"It was my kind of show, tap dancing, big ensembles," Oberst said. "It has great music and is a fun story."
If you feel the same way about musicals, you're in luck. Western's theater and dance program will start its run of "Millie" on Thursday at Rice Auditorium. Performances will continue through March 10.
"We have an orchestra of 20, a cast of 23, lots of sets and lots of dance numbers," said Oberst, show director.
"Thoroughly Modern Millie" is a musical created in 2000 and based on a 1967 Julie Andrews movie of the same name. It tells the story of Millie Dillmount, who comes to New York City from Kansas in 1922 to marry a rich man and lose herself in the flapper lifestyle.
Complications arise when she moves into the Priscilla Hotel for Single Women, which is owned by the leader of a white slavery ring in China.
Photo by Pete Strong
John Rogers, Ruth Mandsager and Ken Tang, from left, practice a number set in the Priscilla Hotel for Single Women during a dress rehearsal Wednesday.
Oberst said musicals offer a special challenge in that the cast members need to be "triple threats."
"They need to have beautiful voices, to be able to dance and be strong actors," said Oberst, noting that this being 1922, everybody also had to be adept at the Charleston.
The lead role of Millie is played by Lindsay Jolliff, a WOU junior from San Diego. Jolliff said musicals have been a part of her life since she was 8; here, there's seldom a scene when she's not singing or dancing.
"It's stressful in that you want to pull your weight, hit your steps and the right notes," Jolliff said. "But it's also very fun; once you're out there, everything else goes away and you're in the moment."
Music styles range from ballads to a Ziegfield Follies-style. Retired music professor Solveig Holmquist has been handling music direction duties, working with vocalists and the orchestra.
There's also a version of Al Jolson's "Mammy" done in Mandarin Chinese by two of the actors portraying henchmen of the villain.
One of them, Ken Tang playing Ching Ho, had actually played the role before and is fluent in Cantonese.
"We were lucky, Ken has been a huge help," Oberst
said.
The show also kept set builders busy. "Millie" features 11 different scenes, with large sets such as the Hotel Priscilla and the Cafe Society speakeasy.
Fashion was another consideration, and actors will be donning any number of flapper dresses, moderns and double-breasted suits. Some were crafted by Western's costume department, others were rented from colleges and high schools who've staged the oft-performed play, Oberst said.
Jolliff has six costume changes, including during the opening number.
"I have 35 seconds to change from a small-town Kansas girl to a New Yorker," Jolliff said.
Showtime
What:
"Thoroughly Modern Millie," presented by the Western Oregon University department of theater and dance.
When:
Nightly Thursday through Saturday, and March 7-10. Start time is 7:30 p.m. There is also a matinee performance on March 4 at 2 p.m.
Where:
Rice Auditorium, Western Oregon University, 345 N. Monmouth Ave., Monmouth.
Admission:
$7 for students, $10 for seniors and $12 for general admission. Tickets can be reserved at or purchased at the Rice Auditorium box office.
For more information:
503-838-8462.