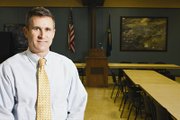 DALLAS -- The Dallas Police Department's home base can't really be called a "station" without stretching the definition.
It has everything a station needs -- a public lobby, manager's offices, officer locker rooms, an evidence locker and an operations center -- but they are scattered in three different locations around City Hall.
"We are not unhappy campers, but it's not how typical business is run," Dallas Police Chief John Teague said last week.
This month, the city of Dallas has proposed a plan, tentatively scheduled to begin in the 2013-14 fiscal year, to convert the Dallas Civic Center into an addition for the police department.
The move would consolidate most operations into one area of City Hall and allow the department to accommodate the public in a more professional manner.
In 2006, the city purchased the former Itemizer-Observer print shop to add more space for police interview rooms, detective offices, a briefing room, and space for patrol operations.
"We were so appreciative of the additional space," Deputy Chief Tom Simpson said. "It was hard to imagine how we would function without it."
Still, Teague said the situation feels makeshift in that much of the station is open to the public.
"The primary concern is having the public right in the middle of our operation," he said, noting that on occasion officers have to conduct preliminary interviews in the open and those waiting to speak to officers are placed in a busy hallway.
In addition, the department's evidence locker, while secure, is in a location that makes processing evidence cumbersome.
Moving into the Civic Center would provide a new public entrance with a bigger lobby, separate waiting area for people needing to speak to an officer, and a more suitable evidence room location.
Teague said the move wouldn't solve all of the department's space needs -- for instance, officer locker rooms would still be in the basement of City Hall -- but it would certainly help, and, at an estimated cost of $500,000, be much less expensive than building a new station.
"To build a police department would cost several million dollars," Teague said.
The city doesn't have the money and Teague doubts a bond to build a new police station would pass -- at least not soon. Dallas voters already rejected a bond proposed to build a combination fire and police station in 2004, during much better economic times.
City Manager Jerry Wyatt said money for the remodel would come from the city's general fund, likely in the form of an interfund loan which the police department would eventually pay back over a number of years by trimming expenses.
"We would be fairly thankful to see that happen," Teague said of the remodel. "And we are not unthankful for where we are now, but we really are in an awkward condition. It could be a lot better."