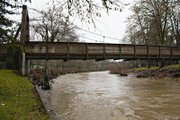 Saturday breakfast
slated in Monmouth
Monmouth Senior Center will host its monthly all-you-can-eat community breakfast fundraiser on Saturday from 8:30 to 10:30 a.m.
Cost is $5 per person, $3 for children under 12. The menu is scheduled to include pancakes, scrambled eggs, link sausage, biscuits and gravy, orange juice and coffee.
Proceeds benefit the Monmouth Senior Center building expansion fund. The center is located at 180 S. Warren St.
For more information: 503-838-5678.
Flea market on tap
at Rickreall Grange
Rickreall Grange is hosting a flea market Saturday and Sunday from 9 a.m. to 4 p.m. at the Rickreall Grange Hall, 280 Main St. (99W).
A variety of vendors offering an assortment of new and used items will be on hand. A few vendor tables remain available for rent.
Breakfast and lunch will be available for purchase both days.
For more information: Blanche Pryor, 503-623-8289.
Sunday breakfast
on tap at grange
Buell Grange will host its monthly Second Sunday Community Breakfast on Jan. 8 from 8 to 11 a.m.
Cost is $5 per person, and the menu is scheduled to include pancakes, sausage, eggs, French toast, hash browns and coffee or juice.
The event is a fundraiser. Proceeds go toward the maintenance of the Buell Grange Hall, located at 5970 Mill Creek Road, just off Highway 22 northwest of Dallas.
For more information: 503-623-8462 or 503-843-4703.
Family movie day
slated for Sunday
The Rickreall Event Hall will show a family-friendly movie Sunday at 2 p.m.
Admission is free, though donations will be accepted. Snacks including popcorn, nachos, candy and drinks will be available for purchase, with proceeds helping to cover the cost of utilities.
Attendees are welcome to bring blankets and pillows, camp chairs, or whatever for viewing the movie.
The Rickreall Event Hall is located at 300 Main St., in the old Rickreall School building.
For more information: 503-623-7276.
Writing group will
gather on Monday
"Write It Before You Lose It," a free life story writing workshop, will meet Monday at the Independence Public Library, located at 175 Monmouth St.
The group starts work at 12:45 p.m. and ends at 3 p.m. Attendees should bring a notebook and pen.
For more information: Betty Plude, 503-838-4039; Independence Public Library, 503-838-1811.
Bible study series
set in Monmouth
A nine-week Bible study series focusing on the book of James begins Monday at Praise Assembly in Monmouth.
Hosted by Mid-Valley Women of Christ, the DVD series features the newest book by national author and teacher Beth Moore, including the life and ministry of James entitled "Mercy Triumphs."
The classes take place at Praise Assembly, 189 Monmouth Ave., from 6:30 to 8:30 p.m. Optional workbooks are available for $16.
To register or for more information: www.mid-valleywomenofchrist.org.