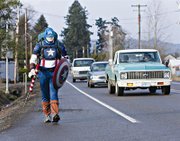 Weight loss group
will meet Friday
Dione Housden of Portland will be the guest speaker when the Monmouth TOPS (Take Off Pounds Sensibly) weight loss support group meets on Friday.
There is no cost to attend the meeting, which begins at 10 a.m. in the lower level fellowship room at Church of Christ, 127 N. Heffley St., Monmouth.
Housden is the 2011 TOPS International Queen and lost 228« pounds in reaching her goal weight.
For more information: Marilyn, 503-838-0706.
Square dance takes
places on Saturday
Guthrie Park Community Center will host its monthly country square dance Saturday from 7 to 10 p.m.
All ages are welcome for an evening of dancing to the music of Cash & Company. Caller is Alan Ede. Dances include old-time squares, big circles, longway sets and waltzes. No experience is necessary; all dances are taught.
Admission is $5 per person and children 12 and under are free. A family rate of $15 for four or more people from the same immediate family is available.
The center is located at 4320 Kings Valley Highway, south of Dallas.
For more information: Sally, 503-623-0809; guthriepark@gmail.com; www.guthriepark.org.
Church will host
concert on Jan. 15
Erma Kotila will perform a concert Sunday at 6 p.m. at Heart to Heart Church, 191 N. Monmouth Ave., Monmouth.
The hourlong performance of musical praise is open to the public. Finger foods and snacks will follow the concert. A freewill offering will be accepted.
For more information: Annita, 503-838-4742; Lisa, 503-837-0541.
WOU will host art
exhibit reception
A reception marking the winter art exhibits at Hamersly Library on the Western Oregon University campus is planned Wednesday, Jan. 18, from 4 to 6 p.m.
"Community Identity" is the theme of the exhibits, which feature "We Are Family" by Salem artist Rollie Wisbrock and "Hidden Transparencies -- Institutions in Our Community" by Salem artist Judy Wong.
Both exhibits are open to the public through March 18 during regular library hours: Monday-Thursday, 7:30 a.m. to midnight; Fridays, 7:30 a.m. to 6 p.m.; Saturdays, 10 a.m. to 6 p.m.; and Sundays, noon to midnight.
For more information: 503-838-8419; e-mail to parparj@wou.edu.
Stew and biscuits
served up Jan. 19
The annual Naomi Chapter No. 22 Order of Eastern Star stew and biscuit lunch is set for Thursday, Jan. 19 , from 11 a.m. to 1 p.m. at the Dallas Civic Center, 955 SE Jefferson St.
The lunch is prepared and hosted by the group. Funds that are raised from this event support chapter service projects.
The lunch includes a bowl of stew, biscuits, your choice of pie and beverage. Cost is $6 per person.
For more information: 503-623-8442.
Community center
available for rent
The Kings Valley Area Association is making the Kings Valley Community Center available for rental.
The historic building, located at the corner of Kings Valley Highway (Hwy. 223) and Maxfield Creek Road between Dallas and Philomath, was built in 1892 and has recently had its kitchen and bathroom updated. More upgrades are in the works.
For more information or reservations: Chuck Olson, 541-929-6952.