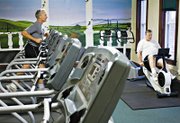 POLK COUNTY -- Each new year, it's on your list.
You want to be healthier.
You want to banish the guilt of an overindulgent holiday season.
You want to get back into those slightly-too-tight jeans or dress hiding in the back of your closet that you just can't bear to donate.
This time of year, fitness clubs nationwide are full of people with similar ambitions.
Local gyms are no exception.
"We see a big increase," said Tony Jeffries, manager at Monmouth Fitness Club. "(New) memberships are three or four times more than the rest of the year. And we see a big increase in usage of current members. There are people you haven't seen in a while coming in."
In Dallas, World Gym and Anytime Fitness both are seeing newcomers.
World Gym co-owner Jackie Lawson said January has been brisk, but she expects February to be the busiest month at the downtown Dallas fitness club. It's a bit unusual, but Lawson said that has been the pattern in the 16 years the Lawsons have operated the gym.
"We always chuckle every year because it's our biggest month," Lawson said, adding she's at a loss as to why that is.
Anytime Fitness co-owner Kelly Davis said the gym typically adds six to seven new members each month. Since the beginning of the year, it has been signing up that many per week.
Davis, who owns Anytime Fitness with her husband, Michael, said she anticipates at least a 50 percent increase in new members to carry through during the first two to three months of 2012.
This time of year it seems it's simple enough to motivate people to want to start exercising. But what about making it a long-term commitment?
Monmouth Fitness has a "Biggest Loser"-type competition each new year in which the male and female winners receive a cash prize.
"We get some pretty good competition," Jeffries said. "Last year we had one guy lose 58 or 60 pounds in 10 weeks."
World Gym has run similar contests in the past, but is taking a different approach this year through the "Rock My Jeans" competition.
"Everybody has that goal, that pair of jeans they want to fit into again," Lawson said. "We want them to pull them out and bring them in."
Over the course of 12 weeks, trainers will work one-on-one with clients to determine the best plan, including exercise and nutrition, to get them back into their jeans -- or whatever article of clothing they choose.
"The jeans will go on the wall throughout the class, so they can see them and keep themselves motivated," Lawson said.
Jeffries said motivation is a key to success, whether it be during a weight loss competition or just establishing a regular exercise routine.
"We live in an instant gratification world," Jeffries said. "If they don't see results, after a couple of weeks it's easy to slide off. It's all about keeping people interested and motivated and keep them from getting bored and discouraged."
Though not a stranger to physical activity, Dallas resident Nancy Kaib just began a new routine this month -- a Zumba class at World Gym. An avid swimmer following knee replacement surgery, Kaib, 57, needed to add variety to her exercise schedule.
"My goal is to feel better," she said. "(Zumba's) great. I love to dance and love music. It's something I don't get to do that often. This is fun."
Motivation doesn't seem to be lacking for Kaib. But for others, it's one of many potential obstacles in the way of success.
Photo by Pete Strong
Dina Carter, far right, leads a Zumba class Monday morning at World Gym in Dallas. Fitness instructors recommend using a class atmosphere to stay motivated.
Fitness instructors recommend signing up for a class, giving people a set time to work out and a group of peers to exercise with. Or for those who don't belong to a gym, find friends or family members to start a routine with.
"Getting involved in classes creates its own accountability because you get to know people in the class," said Anytime Fitness Manager Mary Weinbender. "Also, working with a personal trainer works because I've heard people say time and time again, `I know I can't do this on my own. I need somebody to help me.'"
Lawson added that people succeed when they set achievable goals and make changes gradually. Trying to make wholesale changes quickly -- such as swearing off certain foods or dramatically altering behavior -- doesn't work in the long term.
"That's doomed to failure," she said.
Smaller steps and simple substitutions in one's diet work much better.
"Then they will keep going because they start seeing success," Lawson said.
Slowed by after-workout soreness? Kaib said giving your body time to adjust to exercise is better than trying to make up for lost time in one workout.
"Go slow. If something hurts, don't do it," she said. "If people don't feel good when they go home, they won't come back the next day."
Finally, there's nothing like a busy life to throw people off track. Davis said far too many would-be regular exercisers say they miss workouts because of work and family obligations. She said that isn't a valid excuse for someone who really wants to change.
"You have to make yourself a priority," she said.
How You Can Succeed
Erica Woekel, a faculty member at Oregon State University and Western Oregon University specializing in sport and exercise psychology, offered a few pointers to people looking to begin a new fitness routine:
* Set a realistic and specific goal, with an end date by which you wish to accomplish that goal.
* Set smaller goals that can be adjusted as needed to help you gradually work your way to your ultimate goal.
Woekel said if your goal is to run a half marathon by the end of October, smaller goals may go as follows: running two miles without stopping by February, a 5-mile race in May, an eight-mile run in August, another 10 to 11 miles in September, followed by the half marathon (13.1 miles) in October.
* Be accountable. Tell someone your goal, write it down, and post it in a place where others can see it. Once you do that, people can ask you about your progress to keep you accountable. If possible, ask a friend or family member to exercise with you.
* Make your goal process-oriented, such as committing to exercising three times a week. That way you are making a lifestyle change and not just achieving a goal and stopping.
* Don't punish yourself. Missing a workout session isn't a huge problem. But if you are finding that you are missing more than a few workouts, maybe it's time to re-evaluate your goal or find someone to hold you accountable.
"If you miss one or two exercise sessions, it's not the end of the world," Woekel said. "(But) it will make the next session more difficult, so be prepared."
-- Jolene Guzman