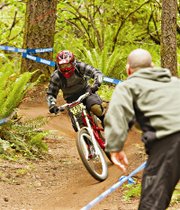 POLK COUNTY -- Add tourism to the list of New Year's resolutions for Polk County.
Several civic and economic development leaders have formed an ad-hoc tourism group that will meet monthly to discuss how to coordinate and boost marketing for sites and attractions across the county and its cities.
"We want to stay focused so everybody can communicate about what's going on with tourism in their own community and find ways to partner up," said Chelsea Pope, director of the Dallas Area Chamber of Commerce and Dallas Area Visitors Center.
Parties in Polk County have been discussing a collaborative relationship for nearly two years now.
Traditionally, efforts in the county have consisted of a local emphasis through area cities' chambers of commerce or visitor centers, as there aren't county-centric destination marketing organizations here.
Officials here feel there's enough happening in the cities and outlying areas to lure in tourists.
"I think there's urgency," said Marilyn Morton, director of the Monmouth-Independence Chamber of Commerce. "Tourism is a revenue stream that I don't think we're doing the best job we can with."
But there's change in the air, if a recent summit attended by more than a dozen leaders from all area cities is any indication.
The city of Independence has recently formed its own tourism and event commission. Both Independence and Monmouth have been exploring how to create a visitor's section presence on their respective websites.
Dallas has been focused on cleaning up and improving infrastructure and wants to add more walking trails, Mayor Brian Dalton said at the summit. The city also is considering hosting a 5K or 10K run.
"We don't have to be Disneyland," Dalton said. "But if you package up the different areas in the county, it's a great place for a day trip."
Members of the monthly group will include planners from Monmouth, Independence, the M-I Chamber and the Dallas Visitors Center.
"We'll be having quarterly meetings that will bring in more representatives from the three cities, the chambers' boards and Polk County," Pope said.
"We want to be able to coordinate efforts on a more local basis as opposed to just trying to do something completely through a Travel Oregon ... that's still an asset, but we need to bring a more specific focus."
Among the first goals is developing a Polk County tourism website or web portal that links to cities and their visitors centers.
A shared effort would make sense. Austin McGuigan, Polk County Community Development Director, said he approached Travel Salem last year for an estimate for a regional county tourism web portal. Cost was about $8,000, he said.
Morton said a group approach could help defer costs and prevent some duplication of information among cities.
"Whatever direction it goes, it will be at a county level and called Travel Polk County," Morton said.
There are still complications to the project, McGuigan said.
"You have disparate needs ... different cities with different brands," McGuigan said.
Chamber participation is a question as those groups cater to their members; meanwhile, there are plenty of nonmembers or rural attractions that could be highlighted.
"Tourism projects always involve a lot of different parties than doing something on your own," said Shawn Irvine, Independence economic development director. "As long as we've started this now and can keep the momentum going, that's all I care about."