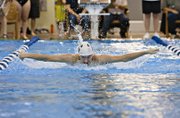 DALLAS -- Senior Robert Berry understands that "all the chips are in" this season.
Junior Franki Cable -- now excelling in the backstroke - has finally found her niche.
Franki Cable
Both Central swimmers will be two to watch in the pool Thursday, as the Panthers face off in a pool they share with a familiar foe -- cross-county "rival" Dallas.
Berry, one of two returning state qualifiers for Central, was all business just prior to practice last week as he spoke of his goals this season, which he's set high in his two best events -- the 100-yard breaststroke and the 100 freestyle.
He knows he doesn't have any more chances after this.
"Most of my growth happened last year, but being a senior now, and realizing that it's my last year, I need to go all out," Berry said.
Central coach Teresa Tolzmann doesn't mind having one of her best swimmers back -- and one that she can turn to compete in any event.
So far this season, Berry has swam the 200 individual medley, the 400 free relay and the 100 breast, among others.
He's still waiting his shot at his second-best event, the 100 free.
"He does everything and he does it well," the seventh-year coach said of Berry.
"I expect him to finish in the top 6 (in the state) of both his individual events -- that's the kind of kid he is."
Cable: Butterfly out, backstroke in
Cable, on the other hand, has come a long way since her first competitive year of swimming her freshman season -- the same time she thought the butterfly might be her calling.
"No, not my strongest point," she recalled with a laugh of trying out the stroke with not-so-successful results.
It took one meet against Philomath that year to open her eyes to a different event -- the backstroke.
"It was toward the end, and I had never swam it before, and they had me in that and the 200 IM, and I was dreading the backstroke," she said.
"I did not think that was my stroke -- and then I ended up beating everyone in my heat."
The rest, as they say, was history.
The junior is aiming at a high placing at districts while trying to knock seconds off her best time.
"She's just a really hard worker, a dedicated swimmer, and she's getting better every time she swims," Tolzmann said of Cable.
Dallas: Friend or foe?
Despite the fact that only 10 miles separate the two schools, Tolzmann pointed out there's no cutthroat rivalry between Central and Dallas -- at least not in the pool.
"No, actually it's a `friend-alry,' it really is," she said with a laugh, noting the two teams plan to join each other for pizza after the meet.
Berry said there's still a small fire of competition, though.
That, and a fun connection.
"Surprisingly, it's a small world," he said. "I'm swimming against (Sam Diaz, who) I went to elementary school with, because I was in the Dallas School District.
"We started swimming against Dallas (last year) and I was like, `Hey, I know you!'"
Dallas swim coach Jeff Bemrose agreed on the friendly nature of the meet, but also noted its importance to the area.
"A lot of the kids know each other, and it's an opportunity to race friends who (otherwise) may not get this opportunity with the other sports.
"... It's a benefit to the communities and the pool, and it brings people together who have ties to both communities."
ORTON, VESSELL LEAD DALLAS SWIMMERS:
Joey Orton picked up a couple of first-place finishes and Deaven Vessell placed first and second in her respective events to lead the Dragons in a dual meet at Crescent Valley Thursday.
Orton won both the 50-yard freestyle (24.85) and the 100 free (54.45) and Jesse Genualdi took 10 seconds off his personal-best time to place third in the 100 butterfly.
Vessell won the 100 breaststroke (1:15.12) and finished second in the 100 butterfly (1:09.93). Selena Hyatt knocked 10 seconds off her best in the 500-free, swimming a 6:59.23 to take second place.