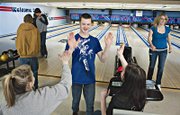 DALLAS -- Dallas High School student Brandon Alvis picked up a bowling ball, walked toward one of the lanes at Starlite Lanes, and hurled the ball toward several suddenly vulnerable-looking pins.
Alvis, a sophomore in DHS's Developmental Learning Center, watched as every last pin crashed to the ground.
He turned around, hands in the air, with two fingers outstretched in a sign of victory.
It was his first spare of the afternoon field trip to Starlite Lanes on Friday. He high-fived several classmates and peer tutors while waiting for his turn to bowl again.
"Brandon, you are beating me right now," said peer tutor Mikayla Goerlich.
That wasn't the only such celebration at the bowling excursion. There were more spares and strikes to come, but the number of falling pins -- though there were plenty -- wasn't the point of the trip.
The number of smiles and high-fives were -- and they were in abundant supply.
Goerlich, a sophomore, said the field trip and others to pumpkin patches and a mall in Salem are special treats for both DLC students and peer tutors.
"It's fun to go out with kids and do stuff like this," she said. "They get very excited about going."
DLC teacher Shana Lavier said the end-of-semester outing is a reward for the dedicated group of peer tutors, a time to relax and have fun.
Peer tutors help DLC students with homework, assist them during classes and accompany them on vocational activities. But Lavier said many peer tutors do much more than that, becoming friends with the students they assist.
"They do such a good job," she said. "They include them in everything. It's awesome."
Lavier said equally impressive was the response of people in the community when she asked for help in planning a treat for her peer tutors. She said Kelly and Michael Davis, the owners of Anytime Fitness, donated money to pay for the trip, and Starlite Lanes owner Loren Faxon opened his business to the class.
Peer tutor Delaney Pape said her reward is simply spending time with DLC students, whether in school or on a field trip. Pape, a junior, has been part of the program for three years and spends most of her time with senior John Miller.
"I love being around the kids and helping them with anything they need," she said. "I love John, working with him and seeing him grow up. I've known him since I was in sixth grade."
Watching the students cheer after someone threw a strike Friday, Delaney smiled and said: "With this, it's like everyday is a reward."