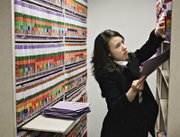 INDEPENDENCE -- Jesica
Paredes began work as an aide at Polk County Circuit Court five weeks ago. The 17-year-old from Dallas, who's trying to earn a GED, said it's been an eye-opener.
She now knows how files for cases to be heard are assembled. She's manned the clerk's window, checking in patrons for hearings and providing information for court-appointed attorneys. She's also been a spectator for cases, including a recent murder trial.
"That was sad," she said. "Kind of confusing, too, with all the different questions for witnesses."
Paredes has had the opportunity to learn the basics of the legal system through HALO (Help Achieving Lifelong Objectives). The Independence-based organization provides assistance for career exploration and GED support for young adults.
And lately, in higher numbers.
HALO's enrollment has increased by nearly 70 percent since 2009. As such, the program has expanded in size and scope, said Katherine Bartlett, HALO director.
It's now running its own GED study site in Independence, is offering new job experience programs and has sharpened its focus on orientation to keep participants engaged.
"We don't do any marketing, so it's been all word of mouth," Bartlett said. "To me, that says we're doing something beneficial."
HALO underwent a shift last year after losing $50,000 of its $420,000 budget from the federal Job Growers Incorporated. It then gained back nearly $40,000 when it was tasked with filling a service void after WorkSource Oregon closed a similar youth program in Salem.
HALO was provided with a second office in downtown Salem and tasked with now covering south Marion County. This has added another 50 young people to HALO's case load, bringing the total to nearly 200.
Interest in programs has been brisk, especially for GEDs, Bartlett said.
"When youths walk in, almost all of them are high school dropouts who say they need their GED," she said, opining it might be due to stiffer high school graduation standards.
The demand has forced HALO to start a waiting list -- for the first time -- and use some additional enrollment criteria, such as appointments with a career coach. No-shows end up on the list.
"We're looking for youths who are really ready to start taking responsibility for their own future," she said. "But even if you're on that list, we've never turned anybody away and said, `sorry, we're too full.'"
HALO served 78 youths in 2008, with half of the participants high school dropouts or graduates. Those figures grew to 128, with 70 percent of enrollees not attending school in 2009, and 128 at 90 percent in 2010.
HALO partners with Chemeketa Community College in Dallas for its GED program. Having a site in Independence means local students can be better monitored and supported, she said.
HALO is also being more strategic with job experience placements.
A federal grant, for example, has led to a bridge program for applicants interested in health care careers; they're given a chance to tour Salem Hospital and get GED classes paid for.
"We're really focused on what they want; before it was just going somewhere for work experience," Bartlett said. "If you want to be a counselor, we focus on a counseling placement.
"It's testing the water for careers."
HALO is holding weekly workshops to assess career readiness skills and having older enrollees mentor newbies.
"We have to be able to not set up anybody for failure, both the student and the employer," Bartlett said. "This isn't teaching them anything if they go out and fail."
Paredes said she doesn't believe she'll pursue a job in the legal system, though does plan to attend college after completing her GED -- she's two classes away from that.
HALO has been helpful, she said.
"It's easier (going through the process) with them than on your own," she said. "You get help on everything you need to know."
Learn More
*
For more information on Help Achieving Lifelong Objectives: www.haloprogram.org or call 503-606-4256.