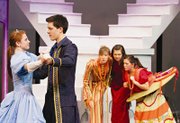 INDEPENDENCE -- When it comes to the story of "Cinderella," generations of little girls have been raised on the Walt Disney 1950 animated version.
When trying to produce a live theater version, even at a high school level, you still have to compete with those memories of fanciful sets and endearing characters.
And that dress.
"It's a show where people have a definite expectation," said Jeff Witt, Central High's theater program director. "You're trying to create that magic."
Witt, his cast and crew will attempt to do so with their take on "Cinderella: The Enchanted Edition." A two-week run begins on Feb. 1.
The story? You all know it. Cinderella, forced into servitude by her wicked stepmother, attends a ball with help from her fairy godmother, loses a glass slipper, gets it back, marries a prince and lives happily ever after.
The production is based on the 1957 Rodgers and Hammerstein musical, with some contemporary elements and dialogue and some additional musical numbers.
Witt chose the play based on the skill of the female members of the school's theater program and the popularity of the musical among students, he said.
"I had to turn away more people for this play than I ever have," he said. "I had 80 people audition and had to narrow it to a cast of 40."
The play might be the school's most ambitious to date. The set is two stories and includes five different locations, from the pumpkin patch to the ballroom.
"We're getting to use turn tables and multiple stair cases," Witt said.
The budget for the play -- which is covered by ticket sales -- is roughly $10,000. That includes the purchase of a carriage from Corban College and Cinderella's blue ballroom gown, which was made special for the production at a cost of $3,000.
"It has 17 yards of fabric," Witt said. "People expect to see Cinderella in a certain type of dress."
Maybe the biggest challenge was casting the main role, Witt said, noting he turned away 30 girls before selecting sophomore Kimberly Tarnasky as the title character.
"I definitely shattered a few dreams," Witt said. "Everybody wants to be Cinderella."
This is the first lead role for Tarnasky, a member of Central High's choir who has sung in previous plays. This part will require her to sing through almost the entire production.
"That's my favorite part," she said. "That's what I feel most comfortable doing."
Tarnasky said she grew up watching the Disney version of Cinderella, like most of her peers.
"I think all girls when they're little want to be a princess," Tarnasky said. "When you grow up, you still want to and it's fun to pretend."
On Stage
What:
Central High School's theater program presents Rodgers and Hammerstein's "Cinderella: The Enchanted Version."
When:
Feb. 2-4 and Feb. 8-11. All performances start at 7:30 p.m. There will also be a sneak preview at 6:30 p.m. for senior citizens on Feb. 1 and a 2 p.m. matinee show on Feb. 4.
Where:
Central High School auditorium, 1530 Monmouth St., Independence.
Cast members include:
Kimberly Tarnasky as Cinderella; Dean Dunmire as Prince Charming; JennieLinn Jessop as Cinderella's wicked stepmother; and Allison Bansen and Emma Thurston as the wicked stepsisters.
Admission:
Tickets are $8 for adults and $5 for those 17 and under. Alumni can get in for $5 on Feb. 8. Student tickets will be $3 on Feb. 3. Tickets can be purchased at the door or by calling 503-838-0480.
Of note:
Audience members are encouraged to come in costume for the Feb. 4 matinee. Girls will have the opportunity to get their pictures taken on stage.