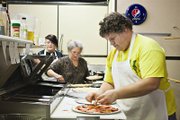 INDEPENDENCE -- Chance Henschel said as he was preparing to leave his old job last fall, he started toying with the idea of running a restaurant.
An opportunity presented itself -- in the form of a listing on craigslist.
Chance's brother, Jason, happened upon a "for sale" notice for the former Dusty Spur Pizza Co. in downtown Independence.
"I thought they were joking at first," Chance said. "Jason and dad (Ray) posed the idea of taking it over ... so I thought `why not?'"
The result is Indepizza, which opened its doors earlier this month and is a family-run business in the truest sense.
Chance's parents own the establishment at 301 S. Main St., while Chance manages and cooks. Jason works there part time and supplies sausage and other ingredients.
"It's good we have the opportunity to get everybody in the family involved and working toward a common goal," Jason said.
Chance, 25, said Indepizza marks the first time he or any of his family have run a restaurant, though he's been a server, bartender and cook at eateries and bars around the Willamette Valley.
"I picked up everything I could while I was working in different places," he said.
Jason and Ray Henschel, meanwhile, have run Henschel's Meat, Produce and Plants stand off Highway 99W for several years.
Chance mixes batches of dough the night before each workday. He also makes his own sauces -- tomato and basil and a garlic Alfredo sauce -- and salad dressing.
"We want everything to be as homemade as possible," he said.
To simplify things, Chance did away with the signature pies that were a staple of Indepizza's predecessor. Customers instead are encouraged to come up with their own combination toppings.
"We'll custom build the way you want it," Chance said. "If you want a thicker crust, we can do that.
"People who've come in like it this way."
The interior has seen a facelift, and the Henschels are putting the finishing touches on a banquet and event room.
Chance noted that when summer arrives, produce will come whenever possible from the Henschel's farm stand. Barbecue and smoked meats from Jason's butcher shop are another possibility, he said.
"It's been pretty fun working together so far ... it's all relative," Jason said.
Give It A Try
What:
Indepizza.
Where:
301 S. Main St., Independence.
Hours:
Open 11 a.m. to 10 p.m. everyday except Tuesday.
Of note:
Cost for a base pizza is $5 for a small, $10 for a medium, $15 for a large and $20 for a giant. Toppings are $1 apiece. The menu also includes hot wings, potato wedges, salads and beer and wine.
Indepizza will host a stand-up comedy show at 9 p.m. on Feb. 3.
For more information:
503-838-4040.