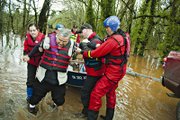 POLK COUNTY -- Residents of Polk County are in cleanup mode after last week's perfect storm combination of snow, followed by warmer temperatures and heavy rainfall led to widespread flooding.
This first major storm of 2012 caused Polk County to declare a disaster and has drawn comparisons to the floods of 1996 and 2007.
And there may be more rain on the way.
Though the flooding has been compared to that of 2007, Polk County Administrator Greg Hansen said last week's storm and aftermath was anything but predictable. He said some areas that haven't flooded before were under water last week, while flood-prone areas had minimal or no issues.
"What I've learned over the years is that almost every flooding event takes on its own story," he said.
The Luckiamute River certainly lived up to past flood comparisons, with a near-record crest of 34.23 feet on Thursday.
County public works crews, Sheriff's Office patrol and search and rescue units worked around the clock to monitor conditions, close roads and help keep residents out of danger.
Photo by Pete Strong
Larry Dixon of Independence (center) photographs the scene along Gun Club Road Thursday after Ash Creek rose above its banks and flooded the area.
"This is their third or fourth day in a row," Hansen said Friday. "They're getting pretty tired. But they are doing a good job."
In Dallas, the storm dropped 6 inches of rain in two days, which, combined with snow melt, closed two city parks and the Rickreall Creek Trail System and turned Rickreall Creek into a raging mess of muddy water.
Residents living near waterways or drainage ditches prone to flooding scrambled to fill and pile sandbags around their properties. The city opened two sandbag filling stations at Dallas High School and at the Lyle Ballfield Complex last week. As waters quickly rose, DHS released about 160 students Thursday to assist in filling and delivering sandbags to people trying to protect their homes.
Photo by Pete Strong
Sandbag filling stations like this one downtown at the Independence Civic Center were kept busy last week.
Elijah Toepfer spent part of Thursday afternoon filling sandbags to place around his mother's house on Monmouth Cutoff Road. During the 2007 flood, he said water was waist high in the home.
"The creeks are getting pretty high and it's going to keep raining," he said. "I would rather be safe than sorry. It tends to flood out there."
City crews worked quickly to channel runoff from a 100-acre undeveloped hillside north of West Ellendale Avenue into a detention pond in Kingsborough Park. Dallas City Manager Jerry Wyatt said the detention basin prevented 20 million gallons of water from spilling into homes in the area.
Photo by Kurt Holland
The Little Luckiamute River just above the namesake falls at Falls City was a raging waterway during the peak of the flooding on Thursday.
Independence residents had the opportunity to witness Riverview Park become a lake as the Willamette River encroached ever higher last week.
Heavy rain overwhelmed the city's sewer system, causing a backup that affected homes and flooded basements. High water closed off streets, including Gun Club Road, which closed by Wednesday.
Monmouth City Manager Scott McClure said Monmouth residents were spared major flood damage, for the most part.
On Thursday, Luckiamute Valley Charter School rushed to send students home as high water from the Little Luckiamute River moved toward its parking lot. Kings Valley Charter School opened late Thursday only to send students home early due to road flooding. LVCS, along with all of Central School District, was closed Friday due to the storm and high water.
Graphic by Pete Strong
Historic Luckiamute River flooding crests (in feet).
Falls City may have seen the most rainfall during the storm, with 10.2 inches in 50 hours, ending at 10 a.m. on Thursday, according to weather spotter reports. In the same time frame, Grand Ronde saw 5.4 inches of rain. Heavy rain may not be done with us yet, though.
Polk County Sheriff Bob Wolfe said another storm in this week's forecast isn't projected to cause nearly as many issues as last week's drenching, but county officials are on alert. The forecast has it moving through in two days, but if it stalls and drops more rain than expected it could become a problem, Wolfe said.
"It's a wet system, they say, but hopefully it will just keep moving," he said.