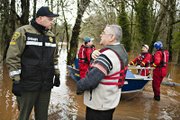 SUVER -- Chuck Tenney can breathe a little easier now, safe -- and dry -- at his home about seven miles south of Monmouth.
Thursday, however, Tenney, 68, was experiencing nothing short of panic as two creeks that flow near the property he is the caretaker for flooded, sending water past his front gate and toward his home.
The house has just one access road, and by Thursday that road had disappeared under an expanse of water.
"The water rose 10 feet in two days," he said. "It was 6 feet over the only access road to the property."
Tenney had been monitoring it since the day before, but was simply shocked at how fast the water rose.
"I woke up in the morning Wednesday and thought 'geez, that's really high,'" Tenney said.
He said in the past when the access road had flooded, the water subsided by the next day, so he didn't worry about evacuating Wednesday.
But this was no normal event.
"By the next day, it had gained another 5 feet," Tenney said. "It looked like a lake. I was afraid to stay out there."
Tenney called the Polk County Sheriff's Office for help Thursday afternoon. Soon, members of the Sheriff's Office Search and Rescue team, with Polk County Fire District No. 1 as backup, brought a boat
to retrieve Tenney and his pet birds.
He said he's appreciative of his rescuers' quick response.
"I'm so grateful to the sheriff's department and all those rescuers," Tenney said. "They were just wonderful. I'm overwhelmed with their kindness ... It's amazing how good people can be in emergencies."
His rescuers took him to a neighbor's on higher ground, where he spent the night.
Tenney said Friday that he was exhausted after his ordeal.
"It's really stressful when you are by yourself and stuck out there with the water rising," he said.
Tenney was able to return home Friday after the flood water receded. He found that the flood waters didn't reach the house, but not by much.
"It had another 5 feet to go," he said. "That's the highest it's ever been there, ever.
"The road is clear now," he continued. "It's (the water) gone down about 7 feet. I'm back at home now, safe and sound."